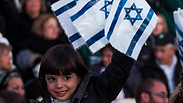 Sense of confidence and belonging in new country (archives)
Photo: Ohad Zwigenberg
Eleven-year-old Julio Weiner has already become an Israeli in the full sense of the word. "This is my home. I feel like I was born here," he says. But he still hasn't had the chance to celebrate Israel's Independence Day.

On Tuesday, four months after making aliyah from Argentina, Julio will feel the special festive atmosphere for the very first time, just like thousands of other children who immigrated to Israel in the past year.

Statistics

Israeli population grew by 157,000 since last Independence Day; Number of people who made aliyah in the past year stood at nearly 24,000.

Some 19,000 new immigrants from 80 countries arrived in Israel in 2013 with the help of the Jewish Agency. Some of them came from countries where emigration had to be done secretly.

"There are children who don't know they are going to Israel until the very last moment," says a Jewish Agency source. "They receive the news one hour before landing."

In the past few days, Yedioth Ahronoth photographer Gadi Kabalo spent some time with a few of the children living in the Jewish Agency's Beit Canada Absorption Center in the southern city of Ashdod as they prepared for the most Israeli holiday for the first time in their lives, dressed in white shirts and waving blue-and-white flags of Israel.

Six-year-old Nora Katz immigrated from Spain last August and quickly fell in love with Israel. "I love touring the country," she says. "Israel is a beautiful place and the people here are kind."

Laura Medina, 14, who immigrated from France in August, says: "I came from the beautiful Paris, but Israel is more beautiful. There is a caressing sea here, sun all day long, and most importantly – many Jews."

Ten-year-old Anna Tiomkin, who immigrated from Ukraine in July, has already participated in a ballroom dancing contest. "I came in second," she says proudly.

Some of the children spoke of the sense of confidence and belonging in their new country. "In Hungary there were children who wouldn't talk to me because I am Jewish," says nine-year-old Alexandra Weiss. "Now I have many new friends."

We also met some kids who have already had the chance to celebrate Independence Day in Israel. Efraim Elhadad immigrated from Yemen in 2010 with his four siblings.

"Our life in Yemen was okay," says his mother, "but recently everything changed and the Jews feel more threatened there. We left Yemen without saying goodbye to anyone and immigrated to Israel secretly."

Jewish Agency Chairman Natan Sharansky remembers his first Independence Day in Israel very well. "It was a special excitement, and today I feel excited together with the thousands of children who will celebrate Independence Day in Israel for the very first time," he says.