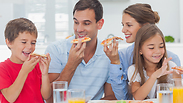 What is your favorite Israeli food?
Photo: Shutterstock
Adi Gold, New York: I miss halva
On any given day, New York City offers much more of everything: Stylish gourmet cooking, street stands with a twist, restaurants with a $2,000 meal for a couple, a $5 business lunch, Uzbek bars, Tibetan pubs, chili mayonnaise flavored ice cream, shawarma at night.
What don't they have? Obviously cottage cheese, right? Well, not really. The Americans actually have not so bad cottage cheese here and there, and our basic working premise – that we are better than them at least in that – is not as true as it used to be. And it's not that in the past we excelled in being right.
Not Just Hummus
Dozens of eateries at Mahane Yehuda market present the widest assortment of culinary options in the city. If you're looking for traditional Middle Eastern food, the best of the bunch may be family-run restaurant Azura.
Bamba? You can find it in every hole in Manhattan. Hummus? The Sabra products have taken over the supermarkets. There is even good sabich (eggplant, egg and hummus) in the Taim restaurants, on Passover the city is flooded with matzo, on Hanukkah there are fresh sufganiyot in every corner, and on Purim the hamantash of the Lehamim (Breads) bakery can blow the Union Square away.
In a nutshell, allow me to introduce the 2014 digital version of Manhattan on the corner of the Land of Milk and Honey.
So what is left? A chunk of pure sweetness. Halva. A celebration of nature and of Israeliness: Tough on the outside, soft on the inside, and with as much sugar as possible. Like the falafel and its gang, it wasn't born in Israel either, but has become rooted a long time ago.
In Beersheba, in the days when every child dreamt of becoming a famous footballer, my mother would fix us a sandwich with coarsely-cut bread from the neighborhood grocery store and lots and lots of halva inside. Is it any wonder that we only started drinking espresso 30 years later? Who even needs a boost of energy after such a bomb?
Sometimes one can find reasonable halva in some Asian deli here. Reasonable, not more. It's never close to the Israeli halva, and not even remotely close to the halva kingdom in Jerusalem's Mahane Yehuda Market. It's never crunchy and fresh and addictive like the one from Israel.
But that's the way it is. Just like in the desert every thorn is a huge hit, here every halva is an international success. Some 5,600 kilometers from Mahane Yehuda Market, while queuing for a cronut or for Manhattan's next culinary hit, I already know what New York is really missing out on.
Maya Mahler, Barcelona: Bourekas and Nesher beer
I have been living in the world's tastiest city for more than 12 years now: God only knows that Barcelona's markets want for nothing. But there is one delicacy that I especially miss.
No, forget about cottage cheese. I was never really fond of those curds of cheese. You won't find hummus on my list either (you may be surprised, but my Argentinean husband makes excellent hummus, mixed with the Nablus tahini my father sends over from Israel).
So what makes my taste buds happy? The Levinsky Market's cheese bourekas.
Each of my visits to Israel must always start and end at the same location: The corner bourekas store where layers of cheese-filled oily and crispy dough wink at me from behind the glass counter. Always cheese.
As my parents were not born in the Balkan countries, and the closest thing to bourekas we ever ate at home was a yellow cheese toast, I assume I acquired the fondness for this pastry thanks to my nanny, Miriam Hazon, a Bulgarian daughter of a Bulgarian, who came from a community where bourekas got the royal treatment.
When I arrive at the Levinsky Market in Tel Aviv, I always order one bourekas with spinach to eat on the spot, while standing on the crossroad, obviously with egg and pickles, and another one with salted cheese for later. This means that while getting new supplies of spices and dried fruits (as if Barcelona lacks any of those), including watermelon seeds to chew on and a lot of Bisli and Bamba snacks for the girls, I notice that the oily brown bag has opened wide and that its content is diminishing.
And then the thirst arrives, and to my rescue comes a dark legendary drink: Root beer. When I was a child we used to call it Nesher beer and return the bottles to the grocery store to get the deposit money. Since then, I have failed to find an alternative for it, and every foreign-made root beer I have checked never felt like that taste of old times.
Today I am just savoring childhood flavors and wondering whether it's possible that in the past things were much simpler and tastier. Or maybe not.
Roni Rachmani, Vancouver: Elite instant coffee
Yes, it is this cheap and simple product which I miss so much in the nine years I have been living in Vancouver. Some people will probably raise an eyebrow and say that if this is what I miss then my life must be good, but I am certain that many people will understand that this is really a vital product we need in our lives, wherever we are.
On my last visit to Israel, my mother bought me Elite instant coffee, and in light of the fact that I was its only client at home, I decided to take the leftovers back to Canada with me. The small can (why didn't she buy me the big one?) lasted barely a month, after which I was forced to return to the local instant coffee which I just don't like.
And this is the place to say it: Elite instant coffee and I are about the same age. It was born in 1958 and I was born in 1959. So that may explain the secret of my addiction to this powder, which has escorted me throughout my entire life.
And what else do I miss here? Tnuva cottage cheese. Unlike my classmate, chef Eyal Shani, I don't know much about food, but even I can say that the cottage cheese here is not good and reminds me of wet plaster. I remember very well how on warm Tel Aviv evenings we used to spread some cottage cheese on a piece of bread, and I believe I would sometimes finish half a box in one meal.
As usual, on my visit to Israel on the eve of the holiday I enjoyed the Tnuva cottage cheese and didn't really look at other types of cheese on the table. After all, what am I visiting Israel for?
Ran Ezer, China: Cottage cheese
The city of Shenzhen in southern China is developing quickly. It can learn a lot from its close neighbor, Hong Kong. There are even two Israeli-Jewish communities in Shenzhen, and each has a Chabad synagogue. But what is Shenzhen missing? 3% cottage cheese.

In the Chinese culture, dairy products are only recommended for children, and what the stores offer contains so much fat which will even make a macho man pale when he takes a look at the label. One can do without cottage cheese, but there is always something missing at breakfast between the egg and the salad.

In general, Chinese food is not what you might think. Although the restaurants offer a wide variety of food from all over the country, Israelis will find it difficult to adjust to the taste.

At university, in Chinese classes, there is a special lesson about drinking hot tea in order to get the food, which is filled with fat and chemical additives, down one's throat and prevent diarrhea and stomach aches.

The provincial Israeli will find comfort in the Turkish restaurants which serve finely chopped salad, hummus and black coffee. And despite all that, there is nothing like Israeli black coffee with cardamom.

And two other things which friends always ask me to bring them when I visit Israel: Halva and Bamba. And they usually add: "Keep it in your handbag. If you put it in your suitcase you may lose it, God forbid."
Tzipi Shmilovitz, Los Angeles: Real hummus
California is a culinary heaven. There is no type of food, from any diaspora or community, that one cannot find on every corner, and most of it is really tasty too – but it's not Israeli food.
Apart from my family and friends, there is nothing I miss more than Israeli food, despite the fact that the Israeli community here is huge and that there are a lot of places where one can eat and feel almost like in Tel Aviv. But that's the thing, it's just almost.
1. First of all, fruits and vegetables. No matter how luxurious and organic the supermarket you enter may be, and no matter how expensive the red pepper is - $3 each, thank you for asking – somehow the salad will never come out like a finely chopped Israeli vegetable salad, with high-quality olive oil and lemon grown in Israel. On the fruit shelves the situation is a bit better. Most organic fruits are tasty and very good, but I have yet to fine one nectarine which is even close to the ones I used to buy from my greengrocer in Holon.
2. Tuna fish. Yes, that's right. What more can a person ask for, but a simple tuna salad. And it's not that there isn't any. There is, and it's even not bad, but it's not like the perfect tuna salad one can get in almost every mediocre café in Tel Aviv.
3. Hummus and tahini. Hummus has become a real hit among the Americans in recent years. They have it in its commercial form and they have also learned how to prepare it alone at home. But in order to eat really good hummus, one must either travel to the famous Israeli restaurants in the Valley or to one of the many Lebanese restaurants in the suburbs surrounding Los Angeles. That will slightly remind you of Abu Hassan's hummus, but somehow even that won't be the same.
Nitza Lowenstein, Australia: Krembo
Every time I visit Israel, I carry Elite Turkish coffee cans back to Australia. At my home in Sydney, I almost always have at least one can on my kitchen shelf, alongside a magnificent collection of other jars of coffee belonging to my family members, who are proud of themselves for choosing high-quality coffee and don't understand my obsession with the Israeli coffee. You'll find that same coffee inside my desk drawer in my office.

But that's not the only my only craze: Another is the coated and salty peanuts one can buy on every street corner or in every supermarket in Israel, which you won't find in Australia at all. I also miss Garinei Afula's sunflower seeds, mainly because here they are considered bird food.

My beloved Bamba can be found in Australia, but getting hold of Krembo is an impossible mission. And that's a shame, because Krembo is linked to my childhood memories and, unfortunately, I have never seen it in this continent.

So what do you say? That I should carry it in my suitcase? Believe me, I have tried. But after a long journey, the Krembo loses its form and become a kvetch. At least the huge Bazooka bubble gum packs I carry back to Australia remain intact. Because after all, how can one last without Bazooka gum?