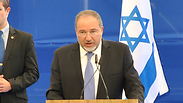 Foreign Minister Avigdor Lieberman
Photo: Ofer Meir
Foreign Minister Avigdor Lieberman slammed Palestinian President Mahmoud Abbas Tuesday in a speech before Israel's diplomatic corps at the President's Residence in Jerusalem.

According to the foreign minister, the Palestinian unity deal will lead to a Hamas takeover of the now Fatah controlled West Bank.

Referencing a meeting between Hamas leader Khalad Mashaal and Abbas in Doha, which took place Monday and was the first direct meeting between the leaders since the unity agreement was announced some two weeks ago, Lieberman said "what this meeting and recent event in Judea and Samaria (West Bank) teach us is that Hamas is well on its way to taking over the Palestinian Authority."

Two weeks ago Hamas and Fatah agreed to form a unity government of independents within five weeks and hold a national election after at least six months, but the rapprochement looked tenuous given the persistence of deep political differences.

According to the foreign minister, "regardless of when the elections will be held – Hamas will win, and the person responsible for this is Abbas, whose behvior "brought Hamas to power in Gaza and will also bring them to power in the West Bank,"

Related stories:

While Islamist Hamas refuses to renounce using force against the Jewish state, secular Western-backed Fatah wants a deal with Israel to set up a Palestinian state in Gaza, the West Bank and East Jerusalem. However, in the meantime, the unity agreement, as well as a slew of unilateral move by both sides, have led to a temporary hiatus in US-brokered peace talks.

Lieberman further said that the largest threat to peace was the Palestinians, who he claimed have repeatedly shown they have no interest in reaching a peace solution:

"The problem of attaining an agreement between Israel and the Palestinians is not Jewish settlement in Judea and Samaria, but rather the Palestinians true intentions. There is absolutely no desire on the part of the Palestinians to reach an agreement with Israel."

Lieberman further slammed Abbas, saying the Palestinian leader had no real intention of reaching a peace agreement with Israel.

"The time has come to tear off Abbas' mask, and say clearly that he consistently rejects peace and does not really want to bring an agreement to the (Palestinian) people he pretends to represent.

"We expect the international community to stand by its statements and demand Hamas comply with the Quartet's three conditions" – renouncing violence, recognize Israel and respecting past agreements signed by the PA.

Lieberman took a jab at nay sayers who placed the onus for the talk's failure on Israel, reminding them that Hamas has yet to disavow violence against Israel.

"time after time there are those who do not want to admit this. Even after Abbas signed an agreement with Hamas, an organization which openly seeks the destruction of the very state where we are celebrating independence, some, especially in Europe, continue to blame Israel for the deadlock in negotiations."