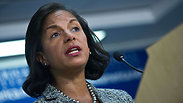 National Security Advisor Susan Rice arrived in Israel on Wednesday morning at the head of the US delegation to strategic talks between the two close allies.

Upon her arrival, Rice tweeted: "Great to be back in Israel, leading USDel to US-Israel Consultative Group."

The American delegation to the Consultative Group meetings includes senior officials from the State Department, Treasury Department, and the intelligence community.

The former US ambassador to the UN said she was looking forward to "robust and intensive consultations" and emphasized that the American "security cooperation with Israel has never been stronger."

The US-Israel Consultative Group meets regularly for interagency dialogue about a wide range of bilateral interests as well as regional security concerns.

The White House stressed that the trip had been scheduled before the breakdown in talks between Israel and the Palestinians, and that Rice was not traveling to Israel with the aim of salvaging the negotiations.

In early April, Rice took to Twitter to blast Israeli officials for their "unfounded and unacceptable" criticism of US Secretary of State John Kerry's remarks on the potential for Israel to become an apartheid state if an agreement is not reached with the Palestinians.

Kerry later apologized for the remark.

During her two-day visit to Israel, her first in her capacity as national security advisor, Rice will hold bilateral meetings with President Shimon Peres and Prime Minister Benjamin Netanyahu.