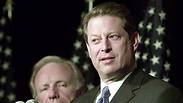 A report in Newsweek Saturday claimed that Israel's intelligence services sent a spy to hide in then-vice present Al Gore's hotel suite, and that despite being caught, the incident and others like it are "hushed up" by US officials.

The report followed a highly polemic story run by the magazine's Jeff Stein last Tuesday which claimed Israel has "crossed red lines" in its spying efforts against the US.

The story further claimed that the "Zionists were dispatching spies to America before there even was an Israel, to gather money and materials for the cause and later the fledgling state," and inspired decrials from the Israeli government and diplomatic corps, with some even claiming it had anti-Semitic undertones.

Related Stories

Newsweek followed up on its success with an additional story, this time detailing an incident in which an Israeli spy was allegedly dispatched to spy on Al Gore. The story goes on to claim that such incidents "stand as an apt metaphor" for the "behind-closed-doors relations between Israel and America" which the paper describes as "frenemies."

Echoing the tone of its initial report, Newsweek went on to claim that the "brazen air-duct caper 'crossed the line' of acceptable behavior between friendly intelligence services – but because it was done by Israel, it was quickly hushed up by US officials."

Citing congressional source, the paper also said that despite being caught multiple times conducting such operations against the US over the last decade, the Israeli operatives "just don't get arrested."

Intelligence and Strategic Affairs Minister Yuval Steinitz slammed the Newsweek report, and said "It seems that someone is trying sabotage the very good intelligence cooperation between Israel and the US. Not once, in any meeting we have had with our US counterparts did we hear any complaints about Israeli spies, only complements on out outstanding cooperation."

Next week Steinitz will meet with Dianne Feinstein, the Chairman of the US Senate Committee on Intelligence, to discuss the reports.
Al Gore-gate?
Citing a "a former senior US intelligence operative" the paper describes in almost comical tones how a lone Secret Service agent stationed in Gore's room heard "a metallic scraping sound… while he was enjoying a "slow time on the pot," the report said quoting the operative.

"So the room was all quiet, he was just meditating on his toes, and he hears a noise in the vent. And he sees the vent clips being moved from the inside. And then he sees a guy starting to exit the vent into the room."

The Secret Service agent "kind of coughed and the guy," the alleged Israeli spy, "went back into the vents."
Post-Pollard caution
After the initial report, the Israeli embassy in Washington issued a denial, saying that "Israel does not conduct any spying activities (against the US), and condemns any attempt to tarnish Israel with false allegations."

A senior diplomatic source in Jerusalem said Israel would send the US a strong message over the report, even going so far as to argue that parts of it were "tainted with a whiff of anti-Semitism."

Former Israeli ambassador to the US Michael Oren also slammed the report, vehemently denying that Israel was still engaged in intelligence-gathering in the US. "Israel hasn't spied on the US since the Pollard incident," he said. "Israel doesn't spy against the US, period."

Oren also dismissed any accusations that the Israeli government played any role in spying by businesses.

"I don't know about industrial espionages, there is spying in the business world, but the Israeli government is not behind it," he said.

The former diplomat also called into question the allegations made in the piece, as well as the reliability of the reporting.

"Regarding the report there were two things that were unclear to me," Oren said. "Are the claims being made against the State of Israel or against Israelis, and who exactly made briefings (the report cites)."

He further claimed that relations between the US and Israel's intelligence services had never been closer "and you can hear that from congress members from both parties.

"Of course there is still apprehension (since the Pollard incident) but it is unfounded."

A senior diplomatic source added that, "since Pollard Israel is very careful. Things are very organized and coordinated with the US."

The source did admit that there had been "disagreement regarding technological exports to China, but that has nothing to do with spying, but rather with exporting."

He further claimed that it seems that someone "is gunning for the visa waiver program… and it is very easy to connect it to some top secret covert intelligence issues – it always works."

To ease the travel of its citizens, Israel is pressing to join 38 other countries in the US Visa Waiver Program – a prestigious club of nations whose citizens don't need a pre-approved visa to visit America.

However, the move has faced considerable roadblocks, with Washington claiming Israel has not been let into the program simply because it has not met the requirements – and has pointed in part to Israel's treatment of Arab-American travelers, drawing sharp denials by Israeli officials of any discrimination.

Two weeks ago, the Washington-based Roll Call quoted a senior House aide as claiming that "the US intelligence community is concerned that adding Israel to the Visa Waiver program would make it easier for Israeli spies to enter the country."

Yitzhak Benhorin and Attila Somfalvi contributed to this report