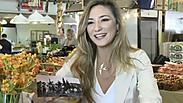 Michal Ansky. 'Israel has a lot to be proud of'
Photo courtesy of Bible Quiz
The France-based international cheese makers' association, La Guilde Internationale des Fromagers, is opening its first office in Israel and has chosen Nany Seyman, who imports cheese and gourmet food, as its lead representative in Israel.

Israel's membership in the guild will help encourage its commerce ties with France and advance the field of culinary.

66 Years of Israeli Food

Yedioth Ahronoth reporters

Yedioth Ahronoth correspondents around the world write about Israeli food they miss the most abroad.

A delegation of senior officials from the prestigious association landed in Israel earlier this week to closely monitor the developing culinary scene in the Holy Land. The past few years have seen a significant growth in the consumption and manufacturing of gourmet cheese, mainly from France.

During their visit, the guild's representatives met with many Israelis, from loyal cheese consumers to pioneering manufacturers. They shared their extensive professional knowledge with their new colleagues and invited them to visit the big league.

The highlight of the visit will take place on Thursday at the residence of France's Ambassador to Israel Patrick Maisonnave, where the prestigious La Guilde Internationale des Fromagers membership will be presented to a number of selected Israelis, including chef Meir Adoni, gastronomist Michal Ansky and local boutique cheese makers.

The members of the Israeli office, led by Nany Seyman, were chosen for their contribution to the developing industry of gourmet cheese in Israel.

"As far as I am concerned, the guild's recognition is a celebration for the entire state," said Seyman. "Israel is slowly drawing closer to Europe."

"The international guild's decision to appoint eight representatives in Israel is a result of the growing interest Israel is showing in the cheese industry and of the expertise accumulated in Israel in this field," said Ambassador Maisonnave.

"The Israeli consumer has become much more demanding about the quality of cheese he or she consumes and has learned to appreciate the quality of cheese from France. The easement of imports Israel has decided on is expected to lead to a reduction in the prices of French cheese sold in Israel," he added.

"We have a lot to be proud of," said Michal Ansky. "There is amazing goat cheese produced in Israel, which changes according to seasons. Thanks to consumer awareness and small boutique dairies that avoid using powdered milk, we are in a respectable place on the global cheese map."