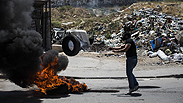 Nakba Day clashes in Ramallah
Photo: Gettyimages
Two Palestinians were killed Thursday from IDF fire in a West Bank clash that erupted after Palestinians marked Nakba Day, prompting a Palestinian warning of a halt in security coordination with the Jewish state.
"The Palestinian leadership cannot remain idle in the face of Israel's violations, the latest of which was the killing of the two young Palestinians," Palestinian security spokesman Adnan al-Damiri told AFP.
"And all this prompts the leadership to seriously consider a halt to security coordination with the Israeli side," he said.
Palestinian medical officials said Muhammad Abu Thahr, 22, and Nadim Nuwara, 17, were both shot in the chest outside Israel's Ofer Prison near Ramallah. Three Palestinians were wounded, one seriously.
Nakba Day clashes ( רויטרס)
Dr. Samir Saliba, the head of the hospital's emergency department, confirmed both deaths.
A Palestinian source at the hospital who spoke to Ynet said the two were killed from live fire. According to him, one of them was DOA, while the other, who arrived in critical condition, died in surgery.
The clashes erupted near a West Bank army checkpoint after some 200 protesters calling for the release of Palestinians detained without trial set fire to tires and hurled stones at border police, marking the 66th anniversary of the "Nakba," meaning catastrophe, when many Palestinians fled or were expelled from their towns and villages during the 1948 Independence War.
Condemning the killings, Amnesty International said Israeli forces had used "excessive, including lethal, force in response to rock-throwing protesters who could not have posed a threat to the lives of the soldiers and policemen in or near the fortified military camp."
Police spokesman Micky Rosenfeld said Border Police broke up "disturbances," but did not use live fire.
The IDF said security forces attempted to disperse the demonstration with "riot dispersal means and rubber bullets."
"Reports regarding Palestinian casualties are currently being reviewed," it said in a statement.
"The use of live bullets on protesters is a dangerous escalation by (Prime Minister Benjamin) Netanyahu's extremist government which aims to drag the region into a new cycle of violence," Wasel Abu Youssef, a senior Palestinian official, told Reuters.
Netanyahu said earlier the Palestinian commemoration was part of "endless propaganda" against Israel. The country would continue to build itself and its "united capital Jerusalem", and push ahead with a new law declaring Israel a Jewish state.
Associated Press, Reuters, AFP. Elior Levi, Yoav Zitun, Ynetnews contributed to this report.