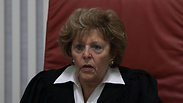 Justice Edna Arbel. Only four of Supreme Court's 15 judges are women
Photo: Ohad Zwigenberg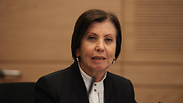 Meretz Chairwoman Zahava Gal-On
Photo: Gil Yohanan
It's hard to find women in the Supreme Court, one of Israel's most important centers of power. Have you ever asked yourselves what is the proportion of women in the place where crucial decisions are made about the lives of the citizens of the State of Israel, both men and women?

Sixty-four judges have served in the Supreme Court so far, and only 10 of them were women. While you are reading this article, 15 judges serve in the Supreme Court. How many of them are women? Four.

Where's the Woman?

Pamphlet introducing medical team at Meuhedet Health Services' clinic in Beit Shemesh includes photos of all doctors – except the woman.

The representation of women as judges should not be a new thing for us. In as early as the biblical period, Deborah the prophetess sits under the palm tree and judges the people of Israel: "Deborah, a prophet, the wife of Lapidot, was judging Israel at that time." (Judges 4:4) Some of the halachic rulers learned from Deborah throughout the generations that a woman can judge (Tosafot, Niddah 40:71).

We are trying to change the imbalance created over the years through an amendment to the Judiciary Law on proper representation of women in the Judicial Selection Committee, which was approved by the Knesset in early 2014 and which I promoted together with Knesset Member Aliza Lavi and other lawmakers.

This amendment will require the Supreme Court, the Knesset, the government and the Israel Bar Association to select at least one woman as their representative in the Judicial Selection Committee.

This committee is in charge of shaping the judiciary's composition. Its job is to decide which judges will lead the judiciary's moves, and in what way it will enforce the rule of law. So we must guarantee that in this important place women will have be a minimum representation of nearly 50% (at least four of the nine committee members).

Seeking proper representation

I believe that a person prefers and appreciates the similar and the familiar, and as our sages said: "A person is closest to himself." That is why men prefer to choose men and women prefer to choose women, and that's why we are seeking proper representation for both sexes.

My initiative to create a balance in the legal system is not just aimed at creating a situation of numerical proper representation, but at giving room for a feminine point of view: A point of view which is different from that of men. Chazal (our sages of blessed memory) have already said that "women are a people of its own" (Shabbat 62:71). This point of view cannot be expressed today, when most members of the system are men. And so decisions related to women are sometimes made in their absence.

Dr. Irit Negbi, a criminologist from the Hebrew University of Jerusalem, presents in her book "Rape Stories in the Court" a narrative analysis of judges' rulings in the Supreme Court from 1991 to 2001, which shows that most legal decisions related to women are based on traditional worldviews, and that many judges who discuss cases of violence against women are not free of chauvinistic and sexist statements which present women who experienced rape as permissive and blameworthy and reprehensible.

These phenomena should remain outside the court, and I believe that a real change in court rulings on matters related to women will only be possible when women's voice is heard more powerfully as an integral part of the panel of judges.

The law's approval by the Knesset is an important milestone in the struggle for proper representation of women. But this struggle will not be completed before we guarantee proper representation of women in all decision making centers in Israel's public arena.