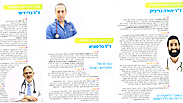 Meuhedet pamphlet. Where's the woman?
What does Dr. Karen Lewis look like? Patients at Meuhedet Health Services' clinic in Beit Shemesh will only know the answer to this question if they meet her in person. They do know what Dr. Rosen, Dr. Dinar or Dr. Sagi look like though. Why is that? Because a booklet issued by the HMO only includes the pictures of the male doctors working at the clinic.

Ahead of the opening of its Beit Shemesh clinic, the HMO issued a pamphlet titled, "Meuhedet Beit Shemesh – the secret of success."

Religious Coercion?

Patients reserving doctor's appointment through Leumit Health Services website receive message asking them to 'arrive in modest clothing.' HMO management says clinic located in haredi area, but removes note following complaint.

While the booklet's cover includes a picture of a male doctor and a young boy wearing a skullcap, women doctors or girls are excluded from the entire publication.

A section titled "Meet the Meuhedet doctor" details Dr. Karen Lewis' extensive experience and even notes that "there are some families in the city in which four generations are treated by Dr. Lewis," but fails to present her photo, unlike the rest of the doctors who have their picture included, and who are all men.

Attorney Rabbi Uri Regev, CEO of Hiddush - Freedom of Religion for Israel, demanded that Meuhedet Health Services "shelve the women-excluding pamphlets immediately and promise not to repeat it."

According to Regev, "The gender equality principle applies to health maintenance organizations as well, and the disgraceful exclusion of women is an intolerable and illegal policy."

Regev also called on Health Minister Yael German to "issue regulations which will impose deterring fines on HMOs and other health institutions over the exclusion of women.

"It's time to make it clear to the HMOs that there is price for surrender, and it will be a painful one," he added.
Meuhedet: We respect our clients' lifestyle
"It's very difficult to understand an HMO which thinks that its members can meet Dr. Karen Lewis and be treated by her, but cannot see her picture," Regev said. "The exclusion of women is an epidemic which we must not stop fighting for a minute. The moment you let go, it raises its ugly and dark head once again."

He suggested that "if Meuhedet Health Service has a public which it believes is unwilling to see women's pictures, it could prepare an edition of publications without any pictures of people at all, for those who specifically ask for it."

Meuhedet Health Services admitted that the female doctor's picture was not included in the pamphlet and offered the following response: "As the booklet was issued for a certain clinic whose public is only ultra-Orthodox, and because we respect our clients and their lifestyles, the booklet does not include photos of women, and this does not lessen our respect for the women doctors.

"Because these women work at the clinic, they know that this does not lessen their professionalism or our pride in them."