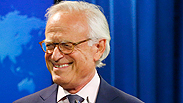 'PM's associates are speaking evil of Indyk, using inappropriate language'
Photo: AP
Our prime ministers and their close associates never liked negotiating with senior officials in the American administration who are of Jewish descent. "Never liked" is a polite definition. Quite a few times they despised the officials sitting in front of them as authorized representatives of the United States.

Many years ago, I quoted then-Prime Minister Yitzhak Shamir's political advisor, who referred to the closest assistants of US Secretary of State James Baker with the derogatory term "Jewboys."

Blame Game

'Indyk is the last person who can preach to us about the peace process,' Israeli official says. 'Process was meant to be primarily bilateral'

Yossi Ben-Aharon, who went on to become the director-general of the Prime Minister's Office, was angry that "Baker's Jewboys" did not support the idea of a Greater Israel, and sided with the formula of territories for peace. We could argue about whether the outlines for the agreement they offered were indeed valid, but using such a derogatory term against them is inexcusable.

I admit that I did not realize at the time that even if you quote something that someone else said, the filth comes back at you and you become a partner in crime. Extreme right-wing organizations of America's Jews used the things I wrote and distributed them in the communities and synagogues of the libeled officials.

Former American Ambassador to Israel Martin Indyk, who tried to help US Secretary of State John Kerry advance an agreement between Israel and the Palestinians, has been "enjoying" a similar treatment from Prime Minister Benjamin Netanyahu's associates in recent days. They are accusing him of hypocritical behavior, reminding him of his Jewishness and are speaking evil of him, using inappropriate language.

All Indyk said was that the talks failed because every time it seemed something was about to happen, a statement was released on further construction in the territories.

As a matter of fact, Indyk's diagnosis wasn't an original one. Every observer and every minister from the right and from the left has mentioned this fact – some gladly and some sadly.

Indyk can take comfort in the fact that his name joins a very respectable list of American Jews who stood by Israel courageously and devotedly. I'll only mention Eddie Jacobson, a friend of President Harry Truman, who convinced him to support the establishment of the State of Israel against the State Department's firm stance; or Secretary of State Henry Kissinger, who during the Yom Kippur War organized the airlift of supplies which enabled us to defend ourselves against the Egyptian and Syrian armies, and later brokered the talks for a ceasefire.

Indyk will be remembered as the person who helped us reach an agreement with Jordan and shaped President Bill Clinton's empathetic and positive attitude towards Israel. A peek at Indyk's biography illustrates that his connection to the Israeli issue has been deeply rooted since his adolescence.

By the way, think about an Arab leader like Hafez Assad sitting in front of an American secretary of state whose advisors are all Jews. What did he and the heads of the Saudi royal family think about these Jews? Yet they were careful not to offend them – and we're not. In the Prime Minister's Office it is okay to mock them and use derogatory names against them. Indeed, it's hard being a Jew.

I covered Jonathan Pollard's trial. I witnessed the harsh consequences of the disastrous decision to operate him to survey the daily life of some of my friends in the administration. I will not reveal any names here. All I will say is that I was asked not to telephone them at the time. We Israelis, in outrageous behavior, targeted them and questioned their loyalty.

We must not forget that Martin Indyk, Dov Zakheim – who as the American deputy undersecretary of defense intercepted the Aerospace Industries' plan to manufacture the Lavi fighter jet – and many others who I met during the years I worked in the American capital, are first of all loyal American citizens and only then supporters of Israel.