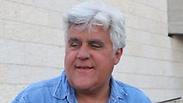 Jay Leno in Israel. Busy writing jokes
American television host Jay Leno arrived in Israel on Tuesday evening ahead of the Genesis Prize ceremony, which he will host on Thursday, and met with Prime Minister Benjamin Netanyahu.

During the event, which will be held at the Jerusalem Theater in the presence of Prime Minister Benjamin Netanyahu, the prize will be awarded for the first time to former New York City Mayor Michael Bloomberg.

Video: Eli Mandelbaum (צילום: אלי מנדלבאום)

"I'm excited. It's a real honor," Leno told Ynet after landing at Ben-Gurion Airport, adding that the weather was great. "I love Israel, that's why I'm here."

Asked what he plans to do in the Holy Land, Leno said: "I'll be visiting, but I've got to host this award show, so I'm busy writing jokes."

Leno also met with Prime Minister Netnayahu, who is set to award Bloomberg the prize.

About three months ago, Leno quit NBC's "The Tonight Show" after serving as its host for 22 years. When we asked him about his plans for the future, he replied: "I'll figure it out."

"It is a great honor to be invited to host this prestigious event," Leno said in the statement released by the Genesis Prize Foundation. "I am very excited. This will be my first visit to Israel and I can't wait to be a part of the Genesis Prize ceremony."

Prime Minister Netanyahu will present Bloomberg with the $1 million prize, which is endowed by Genesis Philanthropy Group and will be awarded annually in partnership with the Prime Minister's Office and the Jewish Agency for Israel.

The evening will include remarks from Bloomberg and Jewish Agency Chairman Natan Sharansky, highlight a piano performance by Evgeny Kissin and feature Israeli singer Rita, the Tararam dance group, actress and comedian Hanah Laszlo and the Raanana Symphonette Orchestra.