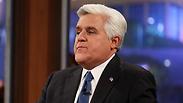 Jay Leno. Headed to Israel
Photo: AP
American television host Jay Leno will arrive in Israel this month to host the Genesis Prize ceremony, the Genesis Prize Foundation said in an official statement.

During the event, which will be held on May 22 at the Jerusalem Theater in the presence of Prime Minister Benjamin Netanyahu, the prize will be awarded for the first time to former New York City Mayor Michael Bloomberg.

Honor

Nobel laureate joins distinguished list of leaders in global, multi-year effort to recognize Jewish achievement and contribution to humanity.

About three months ago, Leno quit NBC's "The Tonight Show" after serving as its host for 22 years.

"It is a great honor to be invited to host this prestigious event," Leno said in the statement released by the Genesis Prize Foundation. "I am very excited. This will be my first visit to Israel and I can't wait to be a part of the Genesis Prize ceremony."

Jay Leno bids farewell to 'The Tonight Show'

"Jay Leno is a comedic icon who has entertained millions of people around the world for over 20 years," said Stan Polovets, the Genesis Prize Foundation's chairman. "What many don't know, however, is that he is also a great friend to Israel.

"We are delighted that he will join us and hundreds of global influencers in celebrating the achievements of the inaugural Genesis Prize Laureate Michael Bloomberg."

Prime Minister Netanyahu will present Bloomberg with the $1 million prize, which is endowed by Genesis Philanthropy Group and will be awarded annually in partnership with the Prime Minister's Office and the Jewish Agency for Israel.

The evening will include remarks from Bloomberg and Jewish Agency Chairman Natan Sharansky, highlight a piano performance by Evgeny Kissin and feature Israeli singer Rita, the Tararam dance group, actress and comedian Hanah Laszlo and the Raanana Symphonette Orchestra.