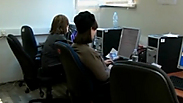 Haredi women say they are suffering from both gender and sectorial discrimination
Photo: Eli Mandelbaum
Ultra-Orthodox women say a program being promoted by Economy Minister Naftali Bennett for the integration of haredim in civil service does not include them, perpetrating the employment discrimination against them in governmental positions and their exclusion from public service.

According to a manifesto issued by the Meoravot organization, which works to advance the status of haredi women, the bill initiated by Bennett "is based on blatant gender discrimination, in which haredi women become transparent," while they are being deprived of employment just as much as the men in their sector.

Making History

If women pass exams which for decades have only been available to men, they will be able to work as kashrut supervisors on behalf of local rabbinate offices across Israel.

The women say that applying the program to men only, as the Economy Ministry's statement reveals, is illogical as "the glass ceiling for the haredi women is a concrete reality in wages and terms of employment compared to non-haredi women, and definitely compared to men."

The program "creates the risk of the revolving door effect, in which on one side men will go out to work, but haredi women working for a particularly low salary will be discharged from the labor market," the organization activists wrote. "This scenario is definitely possible in light of the reality in which men get incentives for integration and the haredi women are left in the back again."
'Haredi women enjoy affirmative action'
The women are calling on the haredi Knesset members and the economy minister "not to lend a hand to the exclusion of the women of the haredi sector and to apply the law to them as well. Give them a starting point equal to men or other Israeli women, and don't add to the employment difficulties which already exist."

An Economy Ministry official told Ynet in response that haredi women already enjoy affirmative action in the civil service's hiring process as part of the affirmative action enjoyed by every woman in Israel, so there is no need to include them in Minister Bennett's program.

The official added, however, that the bill had yet to take shape and that it was possible that eventually there would be no distinction between men and women.

The haredi women's organization rejected the response. Esty Reider-Indorsky, one of the protest's initiators, said the affirmative action policy exists in the Arab sector as well and includes both men and women – and so the same policy should apply to haredi women, who she said are suffering from both gender and sectorial discrimination.