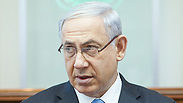 Netanyahu chose blame game over history
Photo: Emil Salman
A win for the moderates
Analysis: Israel's relatively moderate response to Palestinian unity government is final note in last round of peace talks, in which not only did Israel begin sad bout of blame game, it also lost at its own game; meanwhile, Lieberman suggests making peace with Saudis instead of Palestinians.
In a few months, after the midterm elections in the US are over, when no will remember there was a time Hamas and Fatah were once rivals, then the US will re-shift its focus to solving the Israel-Palestinian conflict – and maybe then they will place sanctions on Israel, which is perceived to be responsible for talks failure. At that point, they will recall the Israel of recent days, days when peace talks drew their final breaths before finally succumbing to death, and then people will attempt to understand how it happened.

Maybe then, they will discover that as the Middle East was changing before his eyes, Prime Minister Netanyahu, given a historical opportunity to negotiate with a Palestinian Authority leader who enjoys Hamas' backing, chose to focus on doomed attempts to cancel the presidency in Israel and prevent Likud-rival MK Reuven Rivlin from being election the top position.

Turning the Tables

Op-ed: Instead of a position of frowning and naysaying, Israel could have welcomed Palestinian unity government, saying it would take to any authority, Hamas included, that would honor Quartet's conditions.

Senior political and diplomatic sources whom are closely acquainted with the talks between Israel and the Palestinians claim that the US administration holds Netanyahu responsible for the failure of peace talks. The prime minister, for his part, choose again to talk a lot and do a lot less; and now the time has come for empty threats of economic sanctions against the Palestinians in response to the inauguration of a Palestinian unity government comprised of Hamas and Fatah.

It is redundant to note that this response did not impress the White House, and accordingly it announced it would continue to work with the new Palestinian government, and continue to offer it economic aid. Thus Israel leaves this current round of peace talks with the underhand: Not only did it begin a sad bout of the blame game, it also lost at its own game. And it will be us who will probably have to pay the price for this loss.

Yesterday (Tuesday), in the security cabinet, it was the moderates who set the tone. The Lapid-Livni camp, which yields no small amount of the power in the cabinet, succeeded in blocking a radical response to the Palestinian unity government- because such a response would only push Israel deeper in the mud of having to explain itself, and would have portrayed Israel yet again as the stubborn party, reluctant to talk and make peace.

Bennett, who represents the radical camp in the cabinet, was tossed a bone in the form of a vague promise to maybe, possibly, examine the option of perhaps one day annexing parts of the (West Bank) territories. There is no need to be in the political loop to know that all these 'maybes' equal an empty political declaration.

On this backdrop, Foreign Minister Avigdor Lieberman suggests embracing a new outlook regarding the resolution of the conflict: No more ailing peace talks with the Palestinians, but a string of peace treaties with Saudi Arabia and other Arab states, in which the Palestinians will eventually find their own.

For Lieberman, it is very simple: Israel, the Saudis and other Gulf nations share a common enemy – the regime in Iran and radical Islamist forces active in the reason, for example in Syria. Does an Israel-Saudi deal stand a chance? It depends, but at least Lieberman seems willing to abandon the position held my many Mossad chiefs, namely Meir Dagan, that the Saudis prefer to treat Israel as their mistress, a place one can visit but never make public.