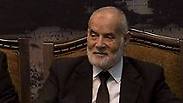 Radical views. Dr. Ahmad Bahar.
Photo: AFP
On January 9, 2009, Mahmoud Abbas was supposed to finish his term as president of the Palestinian Authority. His place would've been taken by Hamas' Dr. Ahmad Bahar, the acting chairman of the Palestinian parliament.

During those days, Hamas issued a statement that it no longer recognizes Abbas' presidency. But those were the days of Operation Cast Lead. The Palestinian constitution was abandoned. The years went by. Abbas stayed in the Mukataa.

Bahar, who was almost president, is one of Hamas' ideologists. In one of his speeches that was broadcast on Palestinian television, Bahar asserted that "every American and every Jew must be killed."

Hamas' Al-Aqsa channel aired an enhanced version of the speech: "The Jews, Christians and communists must all be killed, until none remain." Straight and to the point.

Palestinian unity

Drawbacks of Hamas-Fatah reconciliation considerable, but Israel can still act wisely to support a positive Palestinian future.

In recent years, because of the crisis Hamas found itself in, there are more and more pragmatic people among its ranks who ditched Bahar's rhetoric.

But Bahar and his ilk should not be ignored. They're not a negligent minority. Bahar played a central role in reconciliation talks with Fatah, along with Ismail Haniyeh and Musa Abu Marzuq, and is considered one of the agreement's architects.

One must understand Hamas. Not just the Hamas Covenant, that includes a section preaching for the annihilation of Jews as well as sections taken from the Protocols of the Elders of Zion. One must expose the murderous incitement broadcast on Hamas' TV channel, including in shows for children. One must know what is being taught in the Islamic University of Gaza. It's horrifying, it's nauseating.

The problem is that on this issue, Israel has failed. Hamas may not enjoy sympathy in the free world, but it is perceived as an organization that, if only the circumstances change, it could be considered a partner for talks.

The Quartet - comprised of the United States, Russia, the European Union and the United Nations - set three terms to negotiations with Hamas: recognizing Israel, rejection of terror and violence, and respecting previous agreements. Hamas wouldn't honor these conditions.

And that is precisely Hamas' weakness. And this is exactly where Israel could've gained. Netanyahu insists on a position of frowning and naysaying. He gives the new unity government an advantage, to Hamas and Abbas. Instead of being angry and right, Israel could and should do one simple thing: congratulate the new Palestinian unity government and announce it is willing to talk to any authority, including Hamas, if it agrees to honor the terms set by the Quartet.

Had Israel presented such a position, Hamas would've been faced with two options. The odds of it honoring the Quartet's conditions are slim to none. And even if it would've happened, Israel should've welcomed it. There's a better chance Hamas would've rejected Israel's stretched hand. In such a chance, instead of being seen as frowning and naysaying, Netanyahu would've passed this unpopular role on to Hamas.

In plainer terms, Israel could've only gained from such a move.

Hamas was and remains an organization that belongs - not only in rhetoric - to the global jihad. One could and should expose its true face. For that, one needs a little wisdom, and we're losing it.