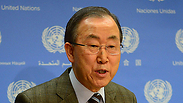 UNITED NATIONS - UN Secretary General Ban Ki-moon called on Israel Thursday to freeze settlement activity and abide by international law after authorities unveiled plans to build 1,500 new settler homes.
Ban is "deeply concerned" by reports that Israel issued the tenders for construction, his spokesman Stephane Dujarric said.
"As the United Nations has reiterated on many occasions, the building of settlements on occupied territory is illegal under international law," he said in a statement.
Related stories:
He reiterated a call from Ban on both parties "to avoid taking unilateral actions on the ground that would further diminish the chances of reaching a negotiated final peace agreement."
"The secretary general calls on Israel to heed the calls of the international community to freeze settlement activity and abide by its commitments under international law and the roadmap," he said.
Israel unveiled the plans in retaliation for the formation of a Palestinian unity government backed by Hamas and the international community, drawing a furious reaction from the Palestinians, who pledged to seek an anti-settlement resolution at the UN Security Council for the first time in more than three years.
The EU also issued a statement Thursday saying it was "deeply disappointed that the Israeli Land Administration has published new tenders for 1466 housing units in settlements in East Jerusalem and the West Bank."
The EU statement went on to say: "What is needed right now is constructive engagement, in order to create a climate conducive to resumed negotiations.
"We call on the Israeli authorities to reverse this decision and to direct all their efforts towards an early resumption of the peace talks."
The PLO also slammed the move, saying it plans to appeal to the UN Security Council, as well as the international justice system, over the move.
"The Palestinian leadership is looking seriously into going to international courts against settlement activity," a PLO official told AFP, speaking on condition of anonymity.
The option of legal action against Israeli settlement building at the International Criminal Court in The Hague opened up after the Palestinians won observer state status at the United Nations in 2012.
But they agreed to hold off on any such recourse for the duration of US-brokered peace negotiations with Israel, which collapsed earlier this year. More over, legal source described any such move as a double edged sword for the Palestinians, as it would also open them up to legal cases brought forth by Israel over terror activities and Hamas sanctioned rocket launches from the Gaza Strip.
"It is time to hold Israel accountable in front of international organizations in light of international law," chief negotiator Saeb Erekat told AFP.
"Those who fear the international courts should stop their war crimes against the Palestinian people, first and foremost of which is settlement activity."