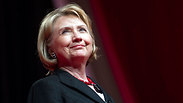 Hillary Rodham Clinton
Photo: AP
The Obama administration's hard line on Israeli settlement construction during the president's first term in office was a tatical mistake, former secretary of state Hillary Rodham Clinton wrote in her new memoir, "Hard Choices."

"In retrospect, our early, hard line on settlements didn't work," she wrote.

She said pushing for a freeze on the building of new Israeli homes in disputed territories hardened Palestinian Authority President Mahmoud Abbas, who didn't negotiate directly with Israel for most of a 10-month construction pause because it didn't include East Jerusalem.

When Netanyahu let the freeze expire, the talks collapsed — though she blames both sides for the failure. Abbas, she notes, ridiculed the Israel concession even as she called it "unprecedented." But then the Palestinian demanded its extension for a continuation of negotiations with Netanyahu.

Related stories:

While Clinton's retelling hardly praises Netanyahu, she describes no personal animosity between the two. That stands in clear contrast to the Israeli leader's relationship with Obama, who is described as "furious" when new Israeli settlements are announced during a visit to Israel by Biden.

The book addresses other foreign policy challenges during Clinton's four years as Obama's top diplomat.

Distancing herself from some of the Obama administration's handling of the Arab Spring, Clinton said that she pushed for Hosni Mubarak to initiate an orderly transition of power in Egypt but was overruled by President Barack Obama's call for the strongman to stand down immediately.

In her book, Clinton describes an administration split during the frantic days of Arab protests in 2011. She includes herself among an old guard of cautious realists such as Vice President Joe Biden, national security adviser Tom Donilon and Defense Secretary Robert Gates at odds with a younger generation of White House aides "swept up in the drama and idealism of the moment."

"I was concerned that we not be seen as pushing a longtime partner out the door, leaving Egypt, Israel, Jordan and the region to an uncertain, dangerous future," the former secretary of state recounts.

Clinton says reasons for maintaining close ties with Mubarak remained: the need to isolate Iran, keep the Suez Canal trade route open, protect Israel's security and combat terrorism in a region where al-Qaeda was plotting new attacks.

For Clinton, highlighting the policy differences she had with Obama, however subtle, may prove crucial if she decides to run for president in 2016. Egypt is a particularly appealing example given the turbulent path it has taken since Mubarak stepped down amid violent street protests more than three years ago.

Since then, a Muslim Brotherhood-led government came to power only to be itself ousted in a military coup, the leader of which recently prevailed in an internationally criticized presidential election.

Clinton says she counseled caution. Obama wasn't comfortable with the level of violence and some of his advisers were displeased when Clinton spoke publicly about the need for an "orderly transition," rather than an immediate one, she writes.

When Mubarak, pushed by a Clinton-picked American mediator, former diplomat Frank Wisner, offered some concessions to the protesters, Obama told advisers: "That's not going to cut it."

When Wisner then attended a security conference in Europe and as a private citizen spoke favorably about Mubarak playing a future role in Egypt, Obama called Clinton to express his unhappiness with the mixed messages. "That's a diplomatic way of saying he took me to the woodshed," she writes.