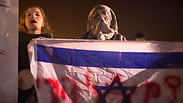 Protest against release of terrorists. Bill approved Sunday will likely not make any progress
Photo: AFP
Jonathan Pollard and Arab prisoners with an Israeli citizenship were set to be released from jail on the eve of Passover.

The release of Pollard, who was sentenced to life in prison in the United States for spying for Israel, and the 14 Israeli Arabs who were jailed here before the 1993 Oslo Accords for their involvement in the murder of Israelis, were at the center of a complex agreement between Prime Minister Benjamin Netanyahu and US Secretary of State John Kerry, which aimed to sustain the false pretense of the talks with Palestinian President Mahmoud Abbas.

Hunger Games

Shop owners in Ramallah go on strike in show of solidarity with 300 Palestinian hunger strikers, 65 hospitalized; UN express concern about deteriorating health of detainees.

Netanyahu conceded the principle that Israel maintains its sovereignty and does not release terrorists who hold an Israeli citizenship, and US President Barack Obama agreed to pardon Pollard against the US judiciary's ruling.

Netanyahu and Obama were so desperate, or eager if you will, not to admit to the failure of the project of the American secretary of state, who promised to bring about an agreement between the parties within nine months.

As part of the complex agreement, Pollard was supposed to promise not to expose secrets he had learned in the past and not to criticize America, while the Arab prisoners were required to waive their Israeli citizenship or, alternatively, agree to be deported to the Gaza Strip.

Eventually, these understandings did not develop into an agreement. Pollard is still in prison, and the jailed Israeli Arabs still hope that the Palestinian leadership will one day manage to release them, one way or another, through an agreement or through the abduction of soldiers.

On Sunday, following pressure from the Bayit Yehudi faction, the government approved a bill which would tie the prime minister's hands and prevent the president from pardoning prisoners as part of deals for the release of terrorists in exchange for soldiers and citizens kidnapped by terror organizations.

Nevertheless, I am willing to take the risk and assert that in the future Israeli prime ministers will still find a way to make decisions related to the release of kidnapped soldiers – with or without a law. In the future, we will still have to leave a great amount of discretion in the hands of the leader, and his hands must not be tied when making decisions which have to do with the lives of Israelis who are taken captive.

Netanyahu, who has lectured world leaders for years about the disastrous consequences to their countries if they gave in to terror – released 1,027 terrorists during his term as prime minister in exchange for captive soldier Gilad Shalit.

The common hypothesis, that things look different from the Prime Minister's Office, does not provide a satisfactory explanation for the sweeping decision that Netanyahu's predecessors didn't dare make. Had they done that, one can only assume that Netanyahu would have wildly attacked them for the lack of discretion they showed in giving in to terror, which would encourage further abductions of Israelis.

A public committee, headed by former Supreme Court President Meir Shamgar, drafted recommendations for the prime minister and ministers in case of negotiations for hostages' release. Netanyahu, rightfully, tried to avoid adopting the recommendations, which tie his hands and revoke his discretion. The bill approved by the government on Sunday will likely not make any progress at the Knesset's Constitution Committee either.

Our future prime ministers will remain attentive to the public opinion and base their decisions on their ability to endure the pressure of the captives' families. In other words, there are issues which cannot be solved mathematically. Let's hope that those relying on this bill to tie our public representatives' hands will remember that.