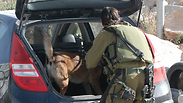 Checking vehicles at a roadblock near Hebron.
Photo: Barel Ephraim
In Israel, the general consensus is that Thursday's kidnapping of three Israeli teenagers near Hebron was carried out by local Hamas operatives and that these operatives had no connection to the leaders of Hamas in Gaza. It appears as though investigations are already in very advanced stages although there is no certainty among Israel's leaders of the outcome.

In any case, the security apparatus assumes that the boys are alive and is acting accordingly. This assumption also has clear implications in the field of military operations - for example, searches and arrests are carried out with the teens' safety in mind preventing certain actions that could be taken if the end goal was only to catch the perpetrators.

It's presumed that the kidnappers and those who worked with them are afraid that the IDF and Shin Bet are closing in on them, getting closing every moment, and therefore they are doing their based to hide beneath the radar.

Related Stories

This could be the reason that the perpetrators aren't going public with any demands, a move that would be expected in the case that the kidnap was successful and the teens were still alive. Meanwhile security officials suspect that the kidnappers are still holding the captured teens in Judea and Samaria.

While searches and arrests continue based on intelligence information, a "counterterrorism" operation is being executed against Hamas' civilian foundation in the West Bank and Jerusalem. A senior security official explained that these actions are carried out in the presence of a rising wave of extremist Islam in Syria and Iraq.

The rapid spread of forces in Iraq that originated in unity with al-Qaeda leads to the great fear in Israel that global jihad will find its way into the territories of Judea and Samaria. Some senior politicians can be heard suggesting that the abduction and the events in Iraq prove that the security arrangements that the Americans insisted upon in peace talks with the Palestinians, especially those connected to the IDF's presence in the Jordan Valley, won't be enough to ensure security.

The abduction of Israeli teenagers is testament that similar developments could progress in the West Bank as a result of actions from the extremist Islamists, especially now that a reconciliation agreement has been reached between Fatah and Hamas, now controlling territories in Judea and Samaria and Jerusalem.

The action against Hamas' civilian base serves a few purposes. These include applying pressure to give up intelligence information and to punish Hamas for their support and performance of kidnapping. The arrests of senior politicians linked to Hamas are intended to give Israel a sustainable bargaining position if they are forced to negotiate for the teens' release.

Finally, government officials in Jerusalem openly admit that the abduction provides a rich opportunity to de-legitimize the Palestinian reconciliation deal on the international stage.