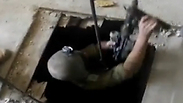 IDF soldier in exposed tunnel
Photo: IDF Spokesperson's Unit
The IDF has discovered dozens of suspected terror tunnels in the Hebron area during Operation Brother's Keeper. Members of Israel's elite engineering unit Yahalom uncovered the tunnels and hiding holes while searching for the three teens kidnapped in the West Bank ten days ago.

Some of the tunnels were found by soldiers inside the homes of Palestinians, under large pieces of furniture and laundry machines. According to one senior officer in the engineering corps, the IDF had no prior intelligence reports regarding the tunnels.

Using their specialized equipment, Yahalom (diamond in Hebrew) forces participated in dozens of raids on the homes of Palestinian activists across the West Bank, confiscating caches of weapons and explosives.

IDF Operation Brother's Keeper footage (קרדיט: דובר צה"ל)

The unit's forces discovered close to 20 laboratories for manufacturing improvised explosives devices hidden in homes they searched. "We would arrive at a suspicious hope and find a family living on the first floor and a laboratory with explosives on the third floor," said a senior officer in the unit.

"We also discovered underground spaces in the Hebron area which we had not known about previously. Because of the intensive operations, we have had to cut short the advanced training for some of our soldiers in order to reinforce the units in the field, even as we continue our operations in the Gaza sector and GOC Northern Command," he added.

IDF forces continued to comb the area north of Hebron on Sunday, searching wells, water reservoirs, pits and ditches on agricultural lands, and homes in order to find the kidnappers or a clue that will lead Israeli forces to them.
Situation assessment
IDF leadership is expected to conduct an assessment of the situation at midweek to decide on whether to continue the massive search or to transfer the thousands of soldiers to another area. They will also decide on whether to continue tightening restrictions on the Palestinian population during the month-long Ramadan holiday that begins next week.

IDF Spokesperson Brig. Gen. Moti Almoz said the IDF has focused its efforts on finding the missing teens. "We are conducting an enormous intelligence effort in cooperation with Shin Bet personnel and with guidance from the civil authorities. This effort will continue in the coming days."

At the weekly cabinet meeting on Sunday, Prime Minister Benjamin Netanyahu reiterated that Hamas was responsible for the kidnapping of the teens. "We have unequivocal proof that this is Hamas. We are sharing this proof and information to this effect with several countries. Soon this information will be made public."