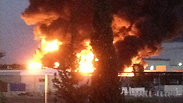 Rocket hits Sderot factory that catches on fire
Photo: Ilan Shabeshkovitz
The IDF is preparing for a possible significant offensive in Gaza, a year and a half after Operation Pillar of Defense. Armored Corps brigades have been instructed to prepare for the possibility of being transferred to the Gaza Division, while the Air Force has deployed additional Iron Dome batteries.
More than 40 rockets were fired from the Gaza Strip at Israel since the beginning of Operation Brother's Keeper to find three Israeli teenagers who have been abducted some two weeks ago. 24 of them fell inside Israel, out of which 11 were fired over the weekend. The Iron Dome missile defense system intercepted seven of the rockets.
The IDF believes the success of the Hamas terror cell in Hebron in heating up the Strip as well, encouraging rouge terror groups to open a second front against Israel.
Related stories:
The IAF attacked three hidden rocket launchers in the central Gaza Strip on Saturday night in response to four rockets fired at southern Israel, one of them hitting a factory that caught fire and was burned to the ground.
The military wing of the Popular Resistance Committees took responsibility for the rocket fire, saying it was a response to the IAF's targeted killing of two of its operatives on Friday.
The army was expected to continue responding to the rocket fire throughout the night.
So far, the IAF has struck some 30 terror targets, mostly identified with Islamic Jihad or Hamas, the latter Israel sees as responsible for everything that happens in the Strip.
Despite the fact the past two weeks have seen the most rockets fired from the Strip since Operation Pillar of Defense, rocket fire has yet to reached beyond the Gaza border communities. Ashdod and Beersheba have not yet been hit, and Hamas is careful not to join the rocket launching.
Defense Minister Moshe Ya'alon spoke to Sderot Mayor Alon Davidi on Saturday night after a rocket hit a factory in the city.
Ya'alon told Davidi that the IDF was "working to restore the calm to the south of Israel. We will not tolerate attempts by terror organizations in the Strip to disrupt the daily lives of the South's residents. As we have done in the past few days, we will continue acting with a heavy hand and attack terror elements firing at Israel, and strike them with a painful blow."
The defense minister added that "at these very moments, the IDF and security forces are working, and will continue to chase and catch terror elements that are trying to hurt us. You, the mayors of cities and regional councils, are showing true leadership and responsibility in situations like these. The residents, who unfortunately have a lot of experience with these kinds of events, are also showing responsibility and a strong stance. You allow us to do our best to restore the calm to the area.