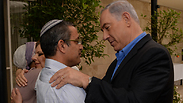 Prime Minister Benjamin Netanyahu visiting the families of abducted teens
Photo:Kobi Gideon, GPO
The cabinet was torn overnight Monday over Israel's response to the murder of three Israeli teenagers - Eyal Yifrach, Naftali Frenkel and Gil-Ad Shaer - who were kidnapped over two weeks ago, and whose bodies were found Monday evening. The emergency meeting ended after three hours without reaching a decision being made.

Economy Minister Naftali Bennett was furious at the army's suggested to bomb several empty structures in the Gaza Strip, saying a much stronger response was required.

Related stories:

Defense Minister Moshe Ya'alon, Finance Minister Yair Lapid and Justice Minister Tzipi Livni lashed out at Bennett for that, advocating for a more measured response.




Prime Minister Benjamin Netanyahu concluded the discussion by saying a strong response was needed, but did not offer one.

Eventually, the cabinet decided on the IAF's overnight strikes of 34 terror targets in the Gaza Strip.

Another meeting was scheduled to take place on Tuesday evening.

Four rockets were fired at Sderot early Tuesday morning, one of them hitting a field that caught on fire. Overnight, four rockets have been fired at the Israeli south. No injuries were reported from any of the attacks.

An IDF source said early Wednesday morning that the army was considering its next move in the Gaza Strip.

"We're preparing a plan to advance an operation in the Strip. The objective is to avoid escalation and act responsibly," the source said.

However, the source added, "if we see Hamas heading towards a confrontation - we'll go there."

In Gaza, Hamas spokesman Sami Abu Zuhri warned Israel against any broad offensive. Gaza militants possess thousands of rockets, and would almost certainly unleash heavy barrages at Israel if Israel attacks.

"Netanyahu should know that threats don't scare Hamas, and if he wages a war on Gaza, the gates of hell will open on him," he said.

Israel's options may be limited. After a two-week crackdown on Hamas in the West Bank, few major targets remain there. Hamas had already been weakened by seven years of pressure by Israel and the forces of Palestinian Authority President Mahmoud Abbas, and Israeli troops seemed to find very little during the latest crackdown.

Abbas scheduled a meeting of the Palestinian leadership on Tuesday to discuss the events, his spokesman Nabil Abu Rdeneh said.

Abdallah Abdallah, an adviser to Abbas, said the Palestinians regretted the loss of life. "We want peace to be created in this part of the world so no mother or no family will be bereaved for the loss of their beloved ones, Palestinian or Israeli," he said.

The Associated Press contribured to this report.