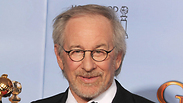 Steven Spielberg. 'He hasn't been here for a long time'
Photo: AFP
Jewish American director Steven Spielberg may visit Israel soon in order to root for his niece, Jessica Katz, one of the contestants in Channel 2's reality singing competition "The Voice Israel."

Sources in the show's production say they were informed by Spielberg's relatives that the visit could take place soon, depending on the progress Katz makes in the competition. Spielberg's father Arnold, his sisters Susan and Nancy, Katz's mother, and his brother-in-law Shimon Katz, have already visited the set.

Arnold Spielberg, 97, who bought his son his first 8-millimeter camera, arrived in Israel to applaud his granddaughter during one of the show's episodes.

His daughter Nancy will be returning to Israel soon with a documentary she produced about the Israel Air Force, which has been selected for the Jerusalem International Film Festival.

Jessica Katz hinted in a recent interview she gave Yedioth Ahronoth's Nevo Ziv that her famous uncle may visit Israel soon. "He hasn't been here for a long time and he said there's a chance he'll come here in the summer," she said.