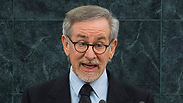 Steven Spielberg. Not planning any more Holocaust movies
Photo: Reuters
Steven Spielberg isn't planning on making any more Holocaust movies. The Oscar-winning director is leaving that to the Shoah Foundation.

After "Schindler's List," Spielberg turned his lens on real survivors of the World War II Jewish genocide through his foundation, which has since filmed nearly 52,000 testimonies from Holocaust survivors around the world. As the organization turns 20, it has expanded its mission to include interviews with survivors of other genocides, including those in Armenia, Cambodia and Rwanda.

Remembrance

Three-time Oscar winner donates tens of thousands of video testimonials from Holocaust survivors to Israel's Holocaust Remembrance Authority.

Spielberg was inspired to create the foundation after meeting so many Holocaust survivors while making "Schindler's List," which tells the story of a German businessman who used his Nazi ties to rescue 1,100 Jews from the Holocaust. The film's greatest legacy isn't its seven Oscars, $300 million in worldwide box office or even its message of humanity, says the 67-year-old, but the ongoing work of the Shoah Foundation.

"It literally popped into my head on the drive back to my house in Krakow after a day of shooting the film that if 'Schindler's List' had any success at all, the success would not be a monetary, commercial one, but the success would be that this film would open a door for me to start taking as many testimonies as humanly possible," Spielberg said in a telephone interview Monday on behalf of the organization, now known as USC Shoah Foundation – The Institute for Visual History and Education.

He also wrote the introduction for a book commemorating its 20th anniversary, "Testimony: The Legacy of Schindler's List and the USC Shoah Foundation," which will be released next week.

Spielberg, who riled the film industry last year when he predicted "an implosion" of the Hollywood studio system spawned by mega-budget flops, declined to address those comments. But would a studio invest in a film like "Schindler's List" today?

"I have my own studio, so I would have just paid for it," he said. "That's how 'Lincoln' got made."

His ongoing investment in the Shoah Foundation, though, may be the filmmaker's most meaningful.

"I'm very proud of this legacy," he said. "I wouldn't trade this for anything in the world."
'When the foundation needs me, I'm there'
Amid his roster of projects, Spielberg stays close to the organization: "I'm basically like a doctor on call. I have everything but a beeper on my belt. When they need me, I'm there."
When he started the foundation in 1994, he just wanted to collect survivor testimonies to help silence the Holocaust deniers who'd popped up during the making of "Schindler's List." He never expected to get nearly 51,413 accounts in 34 languages from 58 countries.
"Movies at least have taught me that I don't have to be realistic about anything," he said.
Says Shoah's executive director, Stephen D. Smith: "Steven Spielberg is the only person I know who had both the integrity and the vision to do it."
As the collection grew, the foundation incorporated education and outreach. The digital archive is vastly searchable, down to the name, date, location and specific keyword. Spielberg also personally visits schools to talk about the survivor testimonies, though he admits the teenage students are initially more interested in discussing "E.T." and Indiana Jones.
"They want to talk about the movies first, and we have a really nice conversation about the movies, and then we go right into this," Spielberg said.
"I think if you put 'E.T.' on a monitor, and they hadn't seen it since they were kids, and on the same monitor you put a testimony from a Hungarian survivor, the young person will watch the testimony and not watch 'E.T.'," he continued. "Because I think the testimony is relevant and analogous today, even in the lives of young people at home or in the school yard. It hits home."
That response, he said, gives him hope.
"It just restored my real faith in all these new generations that at the core of all of their values, everybody starts out as a good person," he said. "(The testimony) reaches and presses the button of the decency in all of us. The decency, the compassion and the pro-action to want to make the world a better place. Not just in young people, in everybody."