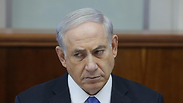 Netanyahu to IDF: Prepare for long, forceful Gaza operation
Photo: Alex Kolomoisky
Prime Minister Benjamin Netanyahu vowed Tuesday evening that "Israel would do everything so that the calm that has prevailed here in recent years will continue."

He accused Hamas of deliberately inviting attacks on civilians in Gaza.

"The IDF is directing its action against the terrorists of Hamas, not against innocent civilians," Netanyahu said. "Hamas deliberately hides behind Palestinian civilians, and therefore bears responsibility for accidental injuries."

The prime minister called on Israeli citizens to follow the instructions of the Home Front Command and understand that the operation against terrorists in Gaza may not be over quickly.

"I urge you to be patient, because this operation could take a long time," he said. "From the perspective of the terrorist organizations, the whole of Israel is one front, and all Israeli citizens are one target. Therefore we must stand together as one - united and confident in our righteousness. We are acting decisively and forcefully to restore calm, and will continue to act until the quiet returns, so that our citizens and our children can live in security."

Meanwhile, the Hamas military wing on Tuesday issued a statement recorded in a secret location, which presented its conditions for the restoration of calm with Israel.

Earlier Tuesday, Netanyahu placed responsibility for the current round of fighting on Hamas. "Hamas chose escalation and it will pay a heavy price for it," he said.

Senior political sources close to the prime minister said he had ordered the defense establishment to conduct a "continuous, long and forceful operation in Gaza."

The decision to call up 40,000 IDF reservists was taken at the request of IDF Chief of Staff Benny Gantz, and is intended to allow reservists to take over part of the duties currently being fulfilled by conscripted soldiers, who will now avail themselves to the operation itself.

According to the sources, Netanyahu told the IDF to go "all the way," saying "this evening a ground operation is currently on the table." According to the sources, such an operation is far from certain, but that the goal is to increase Israeli deterrence and deal Hamas a significant blow.

Attack on Hamas training center in Gaza (Video: IDF_ (צילום: דובר צה"ל)

Defense Minister Moshe Ya'alon for his part said "we are prepared for an offensive against Hamas, which will not end in a couple of days."

Tuesday morning Netanyahu arrived at the IDF headquarters in the Kirya compound in Tel Aviv for a meeting with the defense heads of Israel's establishment.

Ya'alon said after a meeting with the defense establishment's top echelon that he is going to implement an emergency protocol in communities and councils within 40km (about 25 miles) from the Gaza Strip border, expanding economic benifits as well as the IDF's authorities in the civilian areas.

Interior Minister Gideon Sa'ar told Ynet Tuesday that IDF should take harder offensive measures in the Gaza Strip "Israel need to step it up and operate with more ferocity against Hamas." Sa'ar also said "I wouldn't rule out possibility of rockets at Tel Aviv."




Interior Security Minister Yitzhak Aharonovich, a member of security cabinet, also commented on the operation, and said: "The situation in the south has become insufferable, we cannot allow over a million citizens be held hostage in bomb shelters."

According to him, Israel attempted to reach a cease fire deal with Hamas, but to no avail: "We attempted to send them a clear message, and the moment they were ignored by Hamas we stepped up our response.

"Hamas is responsible for bring back the calm," he said.

According to Arab reports, Egypt is working to mediate a ceasefire between Israel and Hamas. The terms of the deal are reported to be a halt in rocket fire in return for a halt in aerial assaults in the strip.

"The IDF has a free hand to operate, within a set of predefined steps. The political echelon has given the IDF everything it has requested.
Operation Protective Edge
Netanyahu's security cabinet decided on Monday to step up air strikes against militants in coastal Gaza. Political sources said ministers stopped short of ordering a ground offensive for now.
Netanyahu had earlier pledged "to do whatever is necessary" to restore quiet to southern Israeli communities although he cautioned against any rush towards wider confrontation with Hamas, whose arsenal includes long-range rockets that can reach Israel's heartland and its business capital, Tel Aviv.
Rightist cabinet ministers pressed for a firmer response to silence rocket fire. Foreign Minister Avigdor Lieberman quit an alliance with Netanyahu's party citing dissatisfaction with Netanyahu's policy on Gaza.
The surge in violence has raged since the kidnapping and killing of three Israeli youths last month in the West Bank and a Palestinian teen last week. Israel has arrested six Jewish suspects over the latter case.
Air raid sirens wailed as far north as the outskirts of Tel Aviv and Jerusalem on Monday night. Israeli police said those were false alarms but the military said rockets had triggered alerts as far as 80 km (50 miles) away, the farthest of the latest crisis.
Two Israelis were wounded in Monday's rocket strikes.
Hamas claimed responsibility for firing rockets at Israel on Monday for the first time since a 2012 war with Israel that ended in an Egyptian-brokered truce.
The group's death toll on Monday had also been the highest Hamas suffered since the 2012 fighting.
Hamas spokesman Sami Abu Zuhri accused Israel of committing a "grave escalation" in violence and threatened to retaliate, saying Israel would "pay the price."
Elior Levy, Roi Kais, Matan Tzuri and Reuters contributed to this report