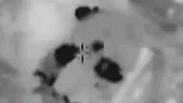 IAF attack the home of Mohammed Snawer, the Izz ad-Din al-Qassam Brigades' regional commander for th
Photo: IDF
Among the 270 terror targets the Israeli air force hit since Operation Protective Edge began were senior commanders from either Hamas or the Islamic Jihad.

The IDF has published a number videos documenting such attacks which target the commanders in the field and in action, as well as in their homes.

Watch the IAF attack the home of Mohammed Snawer, the Izz ad-Din al-Qassam Brigades' regional commander for the Khan Yunis area.

The attack on Snawer's home was followed by a missile attack on the home of Hamas military wing chief Raed al-Atar in Rafah in the southern Gaza Strip, who was among those responsible for the abduction of Sgt. Gilad Shalit. Snawer was released in the prisoner exchange deal which saw Sgt. Shalit go free after five years in Hamas captivity.

Hafez Hamed, a commander in the armed wing of Islamic Jihad, al-Quds Brigades, was killed in an IAF attack in Beit Hanoun on Tuesday night, along with five members of his family.

The attacks were launched in cooperation with the Shin Bet.

Related stories:

The IDF also targeted symbols of Hamas' Gaza regime, including the Interior Security Ministry and a naval outpost.

A senior military source said such operations would continue until at least the evening hours, when additional brigades will reach the Gaza-area ahead of a possible ground operation.