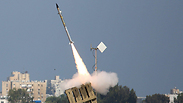 Iron Dome intercepts rocket from the Gaza Strip
Photo: EPA
Hamas on Tuesday pulled almost all of its rabbits out of the hat. It tried a ground attack, sending forces from the sea to Kibbutz Zikim – and failed.
It carried out an explosion in an underground tunnel at Kerem Shalom – it's not clear what was in there, but it is clear that the tunnel was earmarked for a strategic attack inside Israel – and that failed as well.
Related stories:
But their masterstroke, are the long-range rockets that both Hamas and Islamic Jihad launched – as predicted, it must be said – at symbolic targets in Israel. The goal was to eat away at the morale and mental strength of Israel's citizens, while simultaneously lifting the morale of the Gazans who are suffering, and strengthen their support for Hamas.
The aim was to demonstrate the capabilities of these long-range rockets, ostensibly a technological achievement that both threatens Israel and strikes fear into the hearts of its citizens.
At the top of Hamas' list of symbolic targets, is Tel Aviv, followed by Ben-Gurion International Airport and then Jerusalem and the communities north of the central region, with an aspiring eye on Haifa.
Yes, Gaza terror groups have developed a primitive rocket that has enough power, they believe, to reach Haifa. But it seems the plan did not play out as hoped. The rocket apparently broke up in the air and fell in the region of Hadera, some 40km from its target.
It's also possible that this was a Syrian-made rocket, the M302, which had been smuggled to Hamas or Islamic Jihad and fired northwards to the very limits of its range.
Meanwhile, IDF troops continued during the night and morning hours to attack three kinds of targets: the array of rocket launchers, with an emphasis on those buried underground; the terrorist infrastructure, in particular the tunnels; and personal attacks on Hamas and Islamic Jihad field-level commanders. It's more or less what the IDF, helped by the Shin Bet, did the day before.
On the surface, it seems that both sides are now facing a war of attrition, each hoping that the other will blink first and call for a ceasefire. Senior Israeli political figures certainly believe that this is the case.
They say that the Cabinet has instructed the army to achieve the following goals:
Complete cessation of rocket fire at Israel
Restoration of the eroded deterrence against all terrorist organizations in Gaza, thereby achieving a long-term period of quiet
Serious damage inflicted on rocket launchers, in particular long-range rockets, making it difficult in future to produce these rockets and launch them into Israel in large numbers.
Reduction of Hamas's political power and influence in the Palestinian political arena
Completing these missions without harming Israel's legitimacy internationally
Senior political and security sources say these goals are within Israel's reach, provided it has the patience and instills in its citizens confidence in the ability of the IDF and its methods of operation as well as the intelligence community to fully achieve these goals.
One of the means to these ends could be a ground invasion, which is currently being seriously contemplated and planned. The regular troops are training and the reservists being called up.
It is still unclear whether it a ground incursion will be necessary, although previous experience has shown that achieving goals is only fully possible if there is a ground operation component.
Meanwhile, preparations for such a maneuver are being used by the political echelon and the defense establishment to signal to Hamas that Israel will not give up until these goals is achieved.