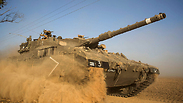 IDF tanks on Gaza border
Photo: Gettyimages
It's almost scary to write, but so far Operation Protective Edge has been managed quite well from an Israeli perspective. Some 350 rockets of all sorts and sizes have been launched from Gaza, but so far there have been no casualties and damage to property is on a surprisingly small scale. Even so, the casualties and the destruction in Gaza and the large-scale suffering there make it difficult - even for an Israeli patriot - to feel satisfied and at ease. What is truly worrying are the twin threats hovering over our heads all the time, which must not be ignored:

1. Iron Dome's tremendous interception success may be misleading. Iron Dome is a machine, and, sophisticated as it is, it is prone to malfunction. There is also a danger from the risk of complacency of Israeli citizens who tend to put their trust in the "Dome" instead of taking defensive action.

2. The "big mistake" scenario. An unexpected event in which the IDF's military operation goes awry and many non-combatants are injured. As the military campaign draws on, so increases the probability of this happening, and of events taking a turn for the worse. Experience also shows such developments usually complicate matters for us on the world stage, and could hinder the achievement of military objectives. This consideration should not castrate the offensive initiative of IDF commanders or scare the cabinet, but it should be kept in the background and should be taken into consideration.

Two burning questions – how long this will take, and whether it is necessary to enter Gaza - are intertwined. The IDF is currently trying to physically harm the rocket launching systems so that their ability is reduced to a minimum, as well as reduce the motivation of terrorist organizations to keep fighting. Nobody expects Hamas to raise a white flag and declare its surrender, but rather stop the rocket fire and ask Egypt to mediate, which would allow us to announce that we have achieved what we set out to do.

And that's not going to happen so fast. The Gazans' ability to absorb suffering and destruction is far greater than our patience and our ability to accept disruptions to our daily life. People in Gaza will not turn out to demonstrate outside the basement where Ismail Haniyeh is hiding to demand an end to the fighting. Nevertheless, there is one method that is proven to be effective: the targeted killings, if they are carried out intensively and successfully over relatively short period of time, have an extremely negative effect on the fighting will of the other side. This was seen in the second intifada and before, and in the American drone attacks on al-Qaeda.

The problem is that senior Hamas and Islamic Jihad officials have gone deep underground, and it is doubtful whether the attacks on mid-level commanders can have the same effect. Even attacks on the homes of senior officials cannot create the same withering effect that could lead to a quick end to the war.

Therefore, a ground invasion is necessary. Once the IDF goes into Gaza, Marwan Issa, the head of Hamas' military wing, will no longer feel secure in the tunnel or basement where he's hiding. Furthermore, hitting the rocket launching system can be done in a far more systematic manner, in the places where the rockets and their production facilities are hidden deep in the heart of their non-combatant population. There is also another reason: they are convinced both that Israel is afraid of a ground operation and that they can always deter us from such a move. Therefore even a psychological effect may lead to the desired reversal and end the fighting.

All this comes with one caveat – the entrance of armored combat teams is solely to achieve clearly defined tasks, and not for a "show of presence" as during Operation Cast Lead.

All force should have a clear mission, whose completion will push forward the objectives that the cabinet has given the army. Otherwise, we should not send ground troops into such a situation, and it certainly should not last so many weeks that it gives the other side a chance to recover and harm our soldiers.

Time is the key factor. Both the IDF and Hamas know that as the army's assault on the Gaza Strip becomes more prolonged and more intense, the ground invasion will become less difficult. Therefore, the cabinet and the IDF top brass are in no rush.