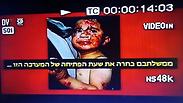 Some Israeli television viewers using private satillite dishes were treated Monday to a special message from Hamas after the organization hacked Channel 10 and played a video with text in Hebrew that read at one point, "Your government chose to begin this campaign. If your government won't agree to our terms then prepare yourselves for a drawn-out stay in bomb shelters."

Pictures flashed in the background of the video, showing wounded civilians in Gaza as well as Hamas militants. Another message was addressed to the "mothers of IDF soldiers" which said that, "If you don't want your sons to be prisoners or to be killed then call them quickly to go back home."




Channel 10 confirmed the incident and reported on it shortly after. According to the station, the hack was only relevant for those connected to a satellite which they said serves mostly Arab viewers.




Hamas' military wing took responsibility for the event which was similar to a recent Hamas hack on Channel 2, though Monday's incident reached a much smaller audience and occurred during a commercial break in aired programming.

Israel's broadcasting regulator responded to the incident saying that, "The broadcasts were interrupted for several seconds following the hostile takeover. The broadcast was interrupted only for those visitors connected to a busy satellite. These viewers are a small percentage of the total audience."

"Accordingly, the Broadcast Authority instructed the aerospace company that distributes the broadcasts to increase the transmission power so that this will not happen again."
Domino's Pizza under attack
An additional hacking attack came to light on Domino's Israel Facebook page on Sunday when hackers changed the profile and timeline picture of the page and began posting statuses like, ""Today will strike deep in Israel, Tel Aviv, Haifa, Jerusalem, Ashkelon, Ashdod more than 2000 rockets. We'll start at 7. Counting back towards the end of Israel … Be warned!"

Israelis took humourous jabs at the posts, repying with things like, "Hey, please reserve a missile for me with jalapenos, green olives, extra cheese, and mushrooms. You have my address. Tell the delivery boy to activate the alarm when it is arriving, so I know to put my pants on."

Domino's regained control of the page and quickly posted a picture of a Hamas militant with the caption, "You cannot defeat….The Israeli hunger for pizza!"