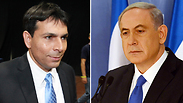 Danon and Netanyahu
Photo: Motti Kimchi
Prime Minister Benjamin Netanyahu fired Deputy Defense Minister Danny Danon on Tuesday evening, who said earlier in a Ynet interview that the failings of Operation Protective Edge were the direct responsibility of Netanyahu.

"While the government of Israel and the IDF are in the midst of a military campaign against terror organizations, and working decisively to protect the safety of Israeli citizens, it is not possible that the deputy defense minister harshly attacks the leadership of the country," wrote Netanyahu.

Ynet (Hebrew language) studio interview with MKs Danny Danon and Merav Michaeli (צילום: ניצן דרור ואורי דוידוביץ')

In the Ynet interview, Danon said "the prime minister is responsible for good or bad. If the result of the operation is negative, the responsibility for the failure is with the prime minister. There is no need to sugarcoat. Hamas decided when we started, when we will finish, and has set the score."

The rightwing politician emphasized his disagreement with Netanyahu: "That is why I, as a senior member of Likud, say that this operation has been run like Zehava Gal-On is the prime minister. This is Meretz policy."

"I saw the compliments Netanyahu received from Gal-On and Yachimovich, everyone is clapping for the prime minister because of the feeble policy which is the policy of the left, of Meretz, and I am sorry because we promised somebody different."

The Netanyahu statement said Danon's remarks were grossly irresponsible, particularly given his present position: "They are used by the terrorist organization Hamas to taunt the Israel government, as can be seen by the organization's media outlets."

"Given his remarks, which express a lack of faith in the government and its leader on a personal level; it was expected from the deputy defense minister to take responsibility for his actions and resign. Since he did not do it of his own initiative, I have decided to remove him from the position."

Attila Somfalvi contributed to this report.