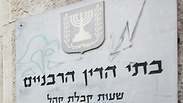 Rabbinical court. 'It was a private initiative' (archives)
Photo: Gil Yohanan
Couples arriving at the rabbinical court in the rocket-battered southern city of Ashdod in the past week were amazed to discover that they would have to go separate ways in case of an air raid siren – the men to the safe room and the women to one of the courtrooms.

Ashdod is one of the cities which has been hit with the biggest amount of rockets since the start of the Israeli operation in Gaza.

Going Seperate Ways

Screens separating between sexes installed near grave of Zvhil Hasidic dynasty's rebbe in Jerusalem cemetery located near Supreme Court, Knesset. 'Rule of law in Israel is being threatened by religious radicalization,' says Hiddush association.

"I arrived at the court this week with my husband, and we immediately began looking for the safe room so that we would know where to go if necessary," a local resident recounted Tuesday.

"After a short search I realized that there is a safe area, but that only my husband is permitted to use it. Although we were offended by the attempt to force segregation on us even at such a time, we went to check if there is a safe room for women as well. We found out that in case of a siren, I would have to hide in one of the courtrooms, which looks like any other room."

Sources in the court tried to explain that the room the women are sent too is also fortified, but one of the citizens who sought shelter in the room during a siren reported that "it's just a big room with windows and regular walls."

The rabbinical courts' management offered the following response: "It's a private initiative and the person responsible for it will be punished."