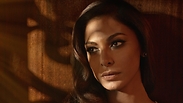 Moran Atias in 'Tyrant'
Photo courtesy of YES
The production of Fox network's new high-profile drama "Tyrant" has decided to temporarily halt shooting in Israel and move to Turkey due to the ongoing rocket fire from Gaza.

"They won't stop shooting in Israel, but they wanted to minimize the risk," said a source involved in the production. "They will shoot outdoor scenes in Turkey and return to Israel, depending on the situation of course."

Facing Reality

Recent real-world turmoil has raised serious questions about whether shooting of six-episode thriller 'Dig' filming can return to Israeli capital.

The series tells the story of tells the story of Barry, the young son of a Middle Eastern dictator who lives in the United States, returns to his homeland for a visit and is drawn with his wife and children into the workings of a turbulent Middle Eastern nation.

Parts of the series, including scenes inside a luxurious palace which is a duplicate of Syrian President Bashar Assad's residence, were filmed on a set built in the Israeli city of Kfar Saba. Additional scenes were slated to be filmed in Kfar Saba, but the shooting has been moved to Turkey for now.

"Tyrant" was developed by "Homeland" creators Howard Gordon and Israeli director and scriptwriter Gideon Raff for American cable and satellite channel FX (owned by the Fox Entertainment Group).

The show is directed by David Yates, known for "Harry Potter and the Deathly Hallows." The actors include Jennifer Finnigan ("The Bold and the Beautiful") and Noah Silver ("The Borgias"), as well as Israeli actresses Moran Atias and Hadar Ratzon Rotem.