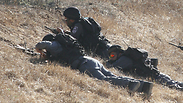 Troops near Ein HaShlosha during suspected terrorist infiltration
Photo: Ido Erez
Rockets continued to fall on Israel on Thursday both before and even after an agreed five-hour UN brokered humanitarian pause in fighting began at 10am, with over 100 rockets fired since the humanitarian halt in fire ended and before the beginning of the IDF's ground operation in the Strip.
After IDF ground troops entered Gaza, five rockets were intercepted over Ofakim, while two others fell in open areas. Shortly before 2am, rockets were fired at Ashdod. Three were intercepted by the Iron Dome.
A heavy barrage of rockets from the Gaza Strip was fired at southern and central Israel. The Iron Dome intercepted one rocket over the Tel Aviv metropolitan area, and five over Kiryat Gat.
Magen David Adom paramedics treated one person lightly injured when he tripped while running for shelter in Holon, and two people were treated for shock in Rishon LeZion and Kiryat Gat.
Shrapnel was found at the entrance to a gas station in the Shfela area. In Netivot, a disaster was prevent when a house that suffered a direct hit was empty. Another rocket exploded inside the city. A rocket also fell in Sdot Negev. No one was hurt in any of these attacks.
Heavy barrages were fired at the Shfela area, as well as at Ashdod and Ashkelon. The Iron Dome intercepted 12 rockets, and another one fell in an open area, causing a fire. A soldier was lightly wounded in Hof Ashkelon from rocket shrapnel in his leg.
Earlier, 10 rockets fell outside communities in Eshkol and four fell inside communities in the regional council with one of them causing a fire and another causing damage to a power line. Three rockets fell in open areas in Sdot Negev, one fell in the yard of a house in Hof Ashkelon and caused a gas leak and two rockets fell in open areas near Ashkelon.
Two rockets were intercepted by Iron Dome over central Israel and two were intercepted over Ashkelon.
Iron Dome intercepts rocket over Ashdod (צילום: אור הרשקוביץ)
Large IDF and police forces were sent to the Eshkol Regional Council on Thursday afternoon and the army opened fire in the north of the Gaza Strip, when fears arose terrorists have infiltrated from Gaza into Israel, an hour after the end of the five-hour pause.
Suspected terrorist infiltration (צלם: רויטרס)
A Code Red alert was sounded in the Ein HaShlosha area, and residents in the Eshkol Regional Council were instructed to remain in their homes. Police closed roads in the south. But after the troops searched the area, the high alert was lifted.
At 2:58pm, moments before the pause was expected to end, rockets slammed into open areas in southern Israel, in the Hof Ashkelon Regional Council and in Eshkol.
At noon at least three mortars were fired at southern Israel's Eshkol Regional Council, falling in an open area, in what was the first breach of the ceasefire.
Palestinian sources reported asked Israel to prolong the five-hour long humanitarian ceasefire, but were turned down. Palestinian media also claimed Israel breached the pause, by returning fire after mortars were launched.
In the morning hours leading up to the lull, Iron Dome intercepted rockets fired at Be'er Sheva and a number of cities in central Israel. Before the break came into effect, rockets hit regional councils in the south, hitting a high voltage power line in the Eshkol Regional Council.
At roughly 8:30am a rocket salvo was fired at central Israel, with sirens heard from Gush Dan to the Sharon region, spaning the entire range of country's central region. One rocket was intercepted while others fell in open area.
Earlier Thursday morning, four rockets were fired at the Be'er Sheva region, with two falling in open regions and two intercepted by Iron Dome. The attacks came after two people were lightly wounded and a school suffered a direct hit Wednesday night.
Palestinian media in Gaza also reported Israel attacked the strip, killing three Palestinians in an aerial attack minutes before the break was expected to come into effect.
An AFP reporter uploaded a photo to her Twitter page of an IDF slide broadcast on Hamas television, in which the IDF urge Gaza Strip residents to use the humanitarian ceasefire to obtain food and medicine.
According to the image, the IDF also wrote that should Hamas fire rockets during the brief truce, it will respond accordingly.
Humanitarian lull
An Egyptian official said that Palestinian President Mahmoud Abbas will meet senior Hamas official Mousa Abu Marzook together with several senior members of the Islamic Jihad in Cairo to discuss ways to implement the Egyptian ceasefire bid, Arabic-language Sky News reported.
Abbas met Wednesday with Marzook and Arab League Secretary-General Nabil al-Arabi.
As the cease-fire began, the Bank of Palestine opened one of its branches in Gaza City's Rimal neighborhood, with hundreds of people lining up to withdraw money.
While both Israel and Hamas said they would respect the pause in fighting, Israel said it would not hesitate to retaliate for any attacks.
"If the humanitarian window is exploited by Hamas for attacks against Israel, we will respond," Israel's chief military spokesman, Brig. Gen. Motti Almoz, told Israeli Channel 2. "If we need to attack we will act without hesitation."
Earlier Thrusday Hamas spokesman Sami Abu Zuhri said that following consultations with various factions the Gaza militants had decided to respect the pause as well and would refrain from firing rockets during those hours as well.
Robert Serry, the UN special coordinator for the Middle East peace process, had asked Israel to agree to a "unilateral humanitarian pause" so that the supplies can be delivered to Gaza, said UN deputy spokesman Farhan Haq. Serry will "urge the parties in Gaza to respect that pause," Haq said.
Israel previously had halted its fire for six hours Tuesday after Egypt put forward a cease-fire proposal that unraveled. Abu Zuhri said Wednesday his group had formally rejected the plan, bemoaning what he called little support from the Arab world.
But Palestinian President Mahmoud Abbas met Wednesday in Cairo with a senior official from Hamas to try to salvage the Egyptian proposal.
In Washington, President Barack Obama said the US supports Egypt's continued efforts to restore the 2012 cease-fire and will use all of its diplomatic resources and relationships to secure a deal to end the violence.
Israel's military said its forces bombed at least 150 targets in Gaza on Wednesday. It did not provide more specifics, but the Gaza Interior Ministry's website said 30 houses, including those of senior Hamas leaders Mahmoud Zahar, Jamila Shanti, Fathi Hamas and Ismail Ashkar, were targeted.
VIDEO: Attack on top Hamas lawmaker Khalil al-Hayya's house (צילום: דובר צה"ל)
Zahar was a key figure in Hamas' violent takeover of Gaza in 2007, while the other three were members of the Palestinian parliament elected in 2006. Many Hamas leaders have gone into hiding since Israel began its bombardment July 8 in response to rocket attacks from Gaza.
Gaza health official Ashraf al-Kidra said the Palestinian death toll rose to 222, with 1,670 wounded. Only one Israeli has so far died in the conflict - a civilian distributing food to soldiers in southern Israel on Tuesday evening - largely because of the effectiveness of Israel's Iron Dome air defense system in downing incoming rockets.
Rockets continue
Rocket fire continued without cessation on Wednesday night, as Hamas militants fired 7 rockets towards Ashdod and Ashkelon. Two people were injured when they tripped and fell down stairs while attempting to reach a protected space, and two were treated for anxiety. At around 8:15 pm, after an hour and a half of relative quiet, sirens sounded in both southern cities and the surrounding regional councils.
The Iron Dome system intercepted four rockets, two fell in open territories and another struck a school in Ashdod without causing any casualties. The rocket fire at Ashdod occurred several hours after Ashdod's municipality decided that school would once again be cancelled in the city on Thursday.
At around 9 pm, Code Red sirens sounded in Kiryat Malakhi and surrounding communities. The Iron Dome intercepted two rockets. Later Wednesday, five rockets were intercepted over Ashdod.
Earlier Wednesday evening, six rockets were fired at Ashkelon, of which one was intercepted and the others fell in open territories. In another attack during the afternoon hours, two rockets exploded in Eshkol Regional Council. Another three rockets fell in open areas in Sdot Negev. There were no reports of injuries or damage.
Elior Levy and the Associated Press contributed to this report