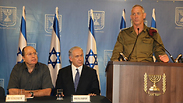 From left: Ya'alon, Netanyahu and Gantz
Photo: Motti Kimchi
Negotiations for a ceasefire moved into a serious stage on Wednesday night, but - absurdly – an IDF ground operation in Gaza seems closer than ever, and is apparently inevitable.

This is down to the fact that Hamas is now trying with all its might, or rather last of its strength, to gain some kind of operational achievement, one that, if realized, could lead to the deaths of Israeli civilians and soldiers. On Wednesday night, the IDF thwarted a massive infiltration attempt through a tunnel dug in Gaza and emerging near Kibbutz Sufa.

This attempted infiltration was another effort by Hamas to rehabilitate its poor operational image and boost its bargaining power during the negotiations on a ceasefire. The relatively large group of terrorists entered through the tunnel that led under the fence close to Sufa, and were apparently intending a major attack with a high death toll and the abduction of soldiers and civilians. Had this plan succeeded, it would have drastically altered the face of this war.

Luckily, Military Intelligence, with the assistance of the Shin Bet, had information enough to issue a warning, and security forces were waiting for the would-be terrorists. But the danger of the tunnels is far from diminished, rather just further illustrated. The IDF knew of a major tunnel through which Hamas intended to attack the Kerem Shalom area with a large number of men. The tunnel was exposed, but it now appears that there are other networks branching in untold directions, including the one near Kibbutz Sufa that was uses Thursday morning. The question of how many more tunnels or offshoots there are cannot be answered without an IDF presence west of the Gaza border fence.

No responsible political or military leader can afford to have the kibbutzim surrounding Gaza under constant threat from tunnels once Israel and Hamas reach an agreement. So the dilemma of the Netanyahu-Ya'alon-Gantz troika over whether or not launch a ground operation has, with this foiled terror attack, been resolved by Hamas itself.

On Wednesday, Prime Minister Benjamin Netanyahu spoke about the long-term demilitarization of the Gaza Strip. This issue is relevant now more than ever, and therefore likely be raised in the early stages of the negotiations currently going on in Cairo. Nonetheless, this is not truly feasible if Israel only tries to achieve it through negotiations. There has to be a major shift at the operational level on the ground for Hamas to even consider responding to this demand.

The Israeli and Hamas delegations are already in Cairo and a five-hour humanitarian ceasefire began at 10 am. But the preliminary demands presented introduced Wednesday by Hamas are clearly unrealistic, not just from Israel's perspective but primarily from Egypt's, given that the Hamas demands center around the round-the-clock opening of the Rafah border crossing between Egypt and Gaza, with international supervision. There is at this stage no point in discussing the specific demands from Hamas, as they will inevitably be subject to change.

In general, Hamas is in the worst shape in its history, and the IDF has begun to note a growing bitterness towards it among the population in Gaza.

When Hamas' leaders emerge from their bunkers during Thursday's humanitarian lull, they will look out at the destruction and perhaps their perspective will change. It is now clear that the Egyptian negotiators have their work cut out, and one can only hope that the Turkish and Qatari mediation offer goes nowhere.

As an aside, the one sticking a spoke in the wheels of the current mediation efforts is none other than our old friend John Kerry. Usual, the US secretary of state is filled with good intentions, and he is the one pushing the Qatari and Turkish track, although it seems that this time it won't work. This is simply because not just Israel and Hamas have a vested interest in restoring calm, but Egypt and Mahmoud Abbas as well. As such, Qatar and Turkey have no part in the equation.

We may have reached the beginning of the end of Operation Protective Edge, but the final curtain is still a long way off.