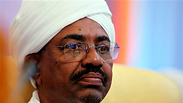 Sudanese President Omar al-Bashir
Photo: AP
Israel recently blew up a weapons cache in Sudan that was destined for Hamas in Gaza, the London-based Arabic-language newspaper Al-Arab reported Monday. According to the report, Sudanese officials believe that Israel did carry out a recent bombardment in its territory, and have imposed a total blackout on the incident.
The newspaper also reported that the bombing of a warehouse of weapons occurred just hours after Israel accused Sudan of providing long-range rockets to Hamas.
A source in the Sudanese security and intelligence establishment is quoted in the report as saying that a loud explosion occurred last Friday in a weapons and equipment warehouse at a military base north of Khartoum. He said the explosion was caused by a fire at the site, and was not due to an attack by Israel Air Force jets.
A spokesman for the Sudanese army also denied that there had been deliberate attack from internal or external agents. While Al-Arab reported six casualties in the incident, the Sudanese defense establishment said that it had managed to bring under control a fire that had broken out in a warehouse, and there were no casualties. According to the Sudanese official, the warehouse contained training equipment.
The Sudanese authorities have more than once in recent years accused Israel of carrying out bombings inside its borders, both in the capital Khartoum and elsewhere. According to foreign reports, the Israeli bombings aimed to disrupt weapon-smuggling into the Gaza Strip and to Hamas.
Foreign reports also stated that Sudanese Foreign Minister Ali Karti recently said his country had received an Iranian offer for anti-aircraft defense systems to deal with Israeli attacks. Sudan, however, refused the offer as Iran wanted to place its own experts on the ground in the African country.
According to Al-Arab, Sudanese President Omar al-Bashir met with Hamas political leader Khaled Mashal two weeks ago in Sudan. Sudanese officials claimed that the blackout on the Israeli attack was designed to conceal the relationship between Khartoum and Hamas.
Witnesses who spoke to the newspaper said that they heard a loud explosion and saw columns of smoke and flames rising from the site.