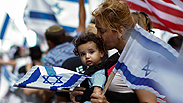 'Our security in the Diaspora is dependent on our support for Israel'
Photo: Reuters
The great medieval Jewish poet and philosopher Judah Halevi wrote a poem about the Land of Israel, which begins with this line: "My heart is in the East, yet I remain (physically) in the furthest point West."

This sums up how I feel about Israel. This feeling has intensified over the last few weeks as Israel faces some of the most serious challenges of its short life span. The question I have asked myself over and over again is: What can I do to help?

Pro-Israel Campaign

New solidarity campaign invited pro-Israel activists to snap their passport - and even got responses from Iran, Pakistan and Indonesia.

The Torah is clear about the fact that we all have an obligation to fight for the Land of Israel. In Numbers (32), Moses was deeply upset with the Tribes of Reuben and Gad which wanted to settle in Jordan rather than take land inside of Israel proper. Moses suspected that they were shirking their responsibility to the rest of the nation of Israel to fight alongside them for the Land.

The Tribes of Reuben and Gad assured Moses that they would fight with their brethren. Moses then warned in the following manner: "But if they (the tribes of Reuben and Gad) do not cross over with you armed (for battle), they shall receive a possession among you in the land of Canaan (rather than in the Jordan)" (Number, 32:30).

According to the commentators, Moses was telling them that if they chose not to fight with the rest of the Nation of Israel for the Land of Israel, they would nonetheless have to live there, but they would forfeit their place in the Diaspora.

This is a powerful statement. We Jews are part of one nation and are eternally connected. Even if we think that somehow what is going on in Israel does not affect us and we say to ourselves that this is not our fight, we need to understand that there are consequences to that attitude.

Simply put, our security in the Diaspora is dependent on our support for the people in the Land of Israel. If we do not support them, our stability outside of Israel will be challenged and, in the end, we will all be forced to move to Israel anyhow.

Thus, the message is clear, supporting Israel for us as Jews in the Diaspora is not only an obligation but it is the conduit through which we gain security in the places we live outside of Israel. This can be understood on a very practical level.

For us as Jews, a strong Israel is a protection against anti-Semitism and the type of persecution that we experienced prior to the establishment of the State of Israel.

No longer do Jews have to rely on America or the Allies to "bomb the tracks." No longer will we Jews be turned away from country after country if we have to flee for our lives in the face of an evil dictator or regime. We will always have a home in Israel to return to. Israel will always be there to protect Jews all around the world, and therefore act as a deterrent to countries that would like to oppress us.

But what can we Diaspora Jews do to fight with Israel in its time of need? Some think that all that is required is to attend a rally or give a donation to the local federation's Israel Fund. It seems to me that at this point, Israel with its booming economy does not need our money as much as it needs our voices.

We Diaspora Jews have a responsibility to talk out in support of Israel's moral right to defend herself. Do it on social media, do it on comments on news sites, do it by writing to your elected officials, do it by talking to your friends and colleagues.

We have an ability to counter all the terrible misinformation, lies and hatred that are spread about Israel. This is something that is vitally needed and which our brothers and sisters fighting in the Israel Defense Force cannot do, but we can. This is our unique part in the fight for Israel, and not only is doing so our biblical obligation, it is in our own personal security interest as well.

May God be with the nation of Israel knowing, to quote Martin Luther King Jr., that "the arc of the moral universe is long, but it bends towards justice."

Levi Brackman is founder of Purposes Inc and creator of a scientifically proven online purpose finding tool Next Stage Purpose . He is currently doing a PhD focused on learning how people can develop purpose and meaning in life. He is also a rabbi and bestselling author.