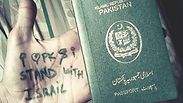 Pro-Israel sentiment from Pakistan
More than 5,000 people than 83 countries around the world have in the last five days photographed their passport along with a caption showing support for Israel scrawled on the palm of their hand, as part of a campaign to show solidarity for the IDF's Operation Protective Edge.
The Facebook campaign is one of two by StandWithUs - an advocacy group that aims to influence world opinion about Israel. In one campaign, supporters from all over the world were asked to send a picture of them standing next to the flag of Israel with the slogan "I Stand with Israel". In the second, supporters were asked for images of their passports and their hands.
"The response has been insane," says Ido Cohen, StandWithUs's director of external relations, "If I don't check my emails every half an hour, I end up with 150 mails with these images. Initially, we thought we would get a response from Jews abroad and a non- Jewish audience, especially in the US, but we are getting pictures even from countries where the news coverage of the operation is not favorable to Israel. It is actually surprise to get support from those countries."
Cohen says he was surprised to get about 20 pictures from South Africa, "in which the government has been officially against Israel, and Nordic countries like Sweden, Norway and Finland, which are very liberal but generally pro-Palestinian. When a person is photographed with his passport, it is the most honest expression of support.
"We have received photos from Muslim countries such as Iran, Pakistan, Turkey, Azerbaijan and Indonesia. We didn't get massive amounts of photos from there, but the few that are sent are the stars for us. Unsurprisingly, we have received many photos from the US and France, although the media coverage in France is hostile to Israel."
The organization was also pleasantly surprised to receive quite a few pictures from the UK, despite the vigorous pro-Palestinian and anti-Israel protests there.
"Our goal is to offer the spirit of support as an organization that promotes the Israeli voice," says Cohen. "We thought at first that this campaign would mainly reach Jews, but there were people who said that they suddenly looked at Israel differently, and understood what the current conflict is really about. Our campaign is designed to allow people to see Israel through its real story, in the way that we Israelis see it. "