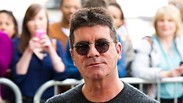 Simon Cowell accused of taking orders from his 'masters in Tel Aviv'
Photo: Gettyimages
British reality shows judge Simon Cowell is being virtually attacked these days by Pro-Palestinian activists over a $150,000 donation to the Friends of the Israel Defense Forces (FIDF) association.

The donation was made about a year ago during a Los Angeles fundraiser organized by Israeli-American businessman Haim Saban, who managed to raise some NIS 70 million ($20 million) to fund IDF soldiers' studies and help their families.

Change of Heart?

Pop sensation deletes controversial tweet eight minutes after posting it, replacing it with picture of Jewish boy embracing Arab boy.

Although it is considered a generous donation for Israel , it's not such a big sum for one of the wealthiest people on television, whose fortune is estimated at more than $300 million.

The issue made headlines recently after pro-Palestinian activists picked up on the a status mentioning the donation which was posted on the Facebook page of "The X-Factor" television music competition created by Cowell.

As a result, Cowell began receiving images of dead Palestinian children on Twitter and has been accused of helping Israel invade Gaza.

One of the tweets said Cowell has "blood on your hands," while another comment included a picture of a father holding his dead baby and read: "You donated money to Israel to do this. Now imagine this was your child."

Someone else wrote that "Simon Cowell donated £100,000 to the IDF to impress his Jewish girlfriend." Another comment accused him of taking orders from his "masters in Tel Aviv."

Most of the comments have been removed from the star's Twitter page. His spokesperson's declined comment.

Although Cowell himself is Christian, his paternal grandmother was Jewish and so is his girlfriend and the mother of his child, Lauren Silverman. In an interview he gave in 2005, Cowell said he had been thrilled to discover that his father was the son of a Jewish refugee from Poland.