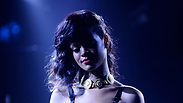 Rihanna. 'She didn't even realize it was a tweet'
Photo: Reuters
Rihanna, one of the most successful singers in the world, deleted a #FreePalestine tweet eight minutes after posting it on Tuesday, replacing it with a new, less controversial tweet.

In the new tweet, posted several hours later, Rihanna wrote: "Let's pray for peace and a swift end to the Israeli-Palestinian conflict! Is there any hope?..." She added a picture of a Jewish boy wearing a skullcap hugging an Arab boy wearing a keffiyeh.

The original tweet was likely deleted following a wave of angry comments, but a source close to the singer says it was never meant to be sent out in the first place.

Revolution of Love?

American superstar attacked by Israeli Instagram followers after posting picture of murdered Arab youth Mohammed Abu Khdeir. In response, she adds picture of three murdered Israeli teens.

"She deleted it because it was never meant to be tweeted," the source told the TMZ website. "She didn't even realize it was a tweet until she started hearing from her fans."

The source added that Rihanna was reading about the Middle East conflict online when she clicked a link, and the next thing she knew her fans were asking her why she was pro-Palestine.

The disappearing tweet incident was reported by many websites, some of which questioned the odd excuse. TMZ added a survey asking its readers whether they believed Rihanna's story. Unsurprisingly, most of them did not find the excuse credible.

New York Magazine wrote, "They're not even trying with the hacker excuses anymore," while The Examiner noted that "any of you tweeters out there know that it's not so easy to post on Twitter without the deliberate act of typing a message or pasting it from some other source, although sometimes an article or video can be twitter from an icon link, but even then you have to submit it by pressing 'tweet!'"

The TMZ source concluded by saying that Rihanna is not pro-Palestine or pro-Israel. "She is pro-peace. She doesn't want innocent people dying."