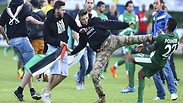 Attack on Maccabi Haifa players
Twitter screenshot
Federal and local law enforcement agencies in Austria are investigating an incident in which pro-Palestinian protesters stormed the pitch during a football match between the Israeli club Maccabi Haifa and a French team.

Anti-Israel protesters invaded the pitch late Wednesday in Bischofshofen, near Salzburg, in a pre-season friendly late Wednesday between Maccabi Haifa and French side Lille, and physically confronted Israeli players towards the end of a the training match.




Police said Thursday the disturbance was the work of locals, most of them of Turkish origin, whose identities were known.

The Austria Press Agency cited Maccabi as saying team members Idan Vered und Dekel Keinan were physically accosted before police broke up the melee.




Police spokesman Ortwin Lamprecht said investigations are focused on whether the disturbance constituted a criminal act.

The match was interrupted near the end of regulation when about 20 protesters waving Palestinian flags and signs with anti-Israeli slogans stormed the pitch. The referee subsequently abandoned the match, with Lille leading 2-0.

The disturbance was condemned by leading Austrian politicians. Chancellor Werner Faymann said such incidents are "not to be tolerated." Austrian Football Federation President Leo Windtner said the abuse of football as "a political stage ... is unacceptable."

The rioting fans tried to attack Yossi Benayoun, the national team captain, as well as other members of the squad. One player was spat on, while the coach entered the pitch to protect his players.

None of the players were injured. They walked to the dressing rooms as security forces cleared the protesters. One player, defender Samuel Scheimann, claimed at least one of the rioters was armed with a pocket knife.

Maccabi Haifa released a statement regarding the incident. "We experienced an uncomfortable atmosphere of violence on the pitch and in the stands. The attack was premeditated and dangerous in light of the incitement in Turkish media. (The protesters) were mostly Turkish immigrants."