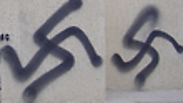 Mayor orders swastikas which have appeared across Rome removed (archives)
Photo courtesy of Chabad Info
Rome's mayor has denounced anti-Semitic graffiti and swastikas that have appeared across Rome and ordered them removed.

Some of the graffiti referred to the escalating violence in Gaza and included taunts such as "Jews, the end is near."

Mayor Ignazio Marino offered his solidarity with Rome's Jewish community and said the graffiti, which appeared near Jewish-owned businesses, was an "offense to all Romans."

Crossing the Line

European foreign ministers vow to do everything possible to combat violence over Gaza conflict in their countries. In Berlin, police ban pro-Palestinian protesters from chanting anti-Semitic slogan.

Jewish leaders, meanwhile, urged Rome police to find those responsible and punish them.

The head of Rome's Jewish Community, Riccardo Pacifici, said "Rome cannot become like Paris where Jews are assaulted, synagogues are surrounded and where wearing the yarmulke is a concrete danger."

Italian political leaders condemned the graffiti and the Vatican newspaper l'Osservatore Romano wrote Tuesday of the "abominable" new episode of anti-Semitism.
'Most threatening period since 1945'
In Germany, police arrested an 18-year-old man after petrol bombs were thrown at a synagogue in the western town of Wuppertal overnight.
"According to investigations, three suspects threw several incendiary devices at the entrance," police said in a statement Tuesday. No one was hurt and it appeared no damage had been done to the synagogue, they said. A local resident had alerted them when she saw a fire close to the building.
Prosecutor Hans-Joachim Kiskel said the nationality of the arrested suspect was not clear, but that the man had told authorities he was Palestinian. The other two suspects fled.
The German government last week assured Jews living in Germany that they should feel safe in the face of the anti-Semitic chants and threats heard at some recent protests against Israel over its conflict with Hamas in Gaza, and said such behavior would not be tolerated.
Germany is ultra-sensitive about anti-Semitism because of the Holocaust perpetrated by the Nazis, and German media have expressed shock at the tenor of anti-Israel chants at some of the demonstrations.
The former head of Germany's Jewish community, Charlotte Knobloch, said in a newspaper interview to be published on Wednesday that Jews were under threat in Germany and urged them to be careful how they appeared in public.
"This is the most worrying and threatening period that we've experienced since 1945," Knobloch told the Cologne Stadt-Anzeiger newspaper. "The phone has been ringing off the hook and we've been bombarded by mail - we're being confronted with insults and hatred."
She said Jews were being "attacked and insulted in our country again."
"And once synagogues are burning, then it's time to ask: What do we have to do to protect Jewish citizens?"
The Associated Press and Reuters contributed to this report.