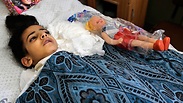 Palestinian child (archives)
Photo: AP
Hamas is preventing three Gazan children, who desperately need medicine they could only get in Israel, from leaving the Strip to Israel. The three children, aged 5, 10 and 12, are suffering from systemic arthritis and are all in mortal peril.

A year ago, the Palestinian children joined a study conducted by the Sheba Medical Center in Tel HaShomer and the pharmaceutical company Novartis AG, which requires the children to receive a monthly injection to treat the diseases. The study itself has ended, but the children need to continue receiving their medication in order to continue their treatment.

Under Attack

Twenty-four physicians and scientists publish open letter against IDF's activity in Gaza in leading medical journal The Lancet. Health Ministry demands removal of letter's online version.

The children's situation has significantly improved while receiving the treatment. But now that the treatment has been stopped, the children are at risk of a renewed inflammation of the disease that could cause liver failure, disabilities and at some cases death.

Systemic Arthritis, that appears in one of every 4,000 children, is often a more severe form of Juvenile Idiopathic Arthritis. It affects many parts of the body, rather than just the joints.

Children or teenagers who suffer from Systematic Arthritis experience joint pain or swelling. If the disease is severe, the sick child may have inflammation around his heart, lungs, or bowels. Also, the immune system may start to destroy blood cells. Patients also experience spiked fever, fatigue and the general feeling of unwell.

According to Prof. Shay Pade, the head of the pediatric department at the children's hospital in Sheba, said that the current treatment is the most effective. The injection allows the antibodies to block the protein that causes the inflammation.

"We keep thinking the fighting (in Gaza) will stop and the problem would resolve itself, but the operation continues," Prof. Pade said. "We're constantly in contact with them, but we're afraid to death (something could happen to them)."

Eliad Ben-Dayan, the Chief Scientific Officer at Novartis, said preventing the children of receiving their monthly shots "is like suddenly moving away a fire hose putting out a fire. The fire reignites all at once. The children are very dependent on the medicine, and stopping the treatment could lead to death. It's sad that they'll lose control of the disease because of the security situation."

The treatment costs NIS 70,000, but the Palestinian children receiving it free of charge.