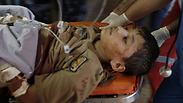 'Military onslaught on civilians in Gaza under the guise of punishing terrorists'
Photo: Reuters
The Lancet, one of the world's leading general medical journals, has published an open letter signed by 24 doctors and scientists, harshly condemning the IDF's activity in the Gaza Strip and calling on the world not to "remain silent while this crime against humanity continues."

Most of the doctors who signed the document are from Italy, five are from Britain and one is from Norway.

Rejected Aid

Health Ministry prepared millions of shekels worth of medicine, chemotherapy and medical equipment for Strip; MDA offered blood donations.

Alongside the short version of the letter, The Lancet added an online form allowing readers to join the list of signatories. Nearly 16,000 people have signed the petition so far.

"We are doctors and scientists who spend our lives developing means to care and protect health and lives," the letter reads. "We ask our colleagues, old and young professionals, to denounce this Israeli aggression.

"We challenge the perversity of a propaganda that justifies the creation of an emergency to masquerade a massacre, a so-called 'defensive aggression.' In reality it is a ruthless assault of unlimited duration, extent, and intensity.

"We are appalled by the military onslaught on civilians in Gaza under the guise of punishing terrorists. This is the third large scale military assault on Gaza since 2008. Each time the death toll is borne mainly by innocent people in Gaza, especially women and children under the unacceptable pretext of Israel eradicating political parties and resistance to the occupation and siege they impose.

"In Gaza, people suffer from hunger, thirst, pollution, shortage of medicines, electricity, and any means to get an income, not only by being bombed and shelled. Power crisis, gasoline shortage, water and food scarcity, sewage outflow and ever decreasing resources are disasters caused directly and indirectly by the siege.

"People in Gaza are resisting this aggression because they want a better and normal life and, even while crying in sorrow, pain, and terror, they reject a temporary truce that does not provide a real chance for a better future.

"Despite the difficult conditions, the people of Gaza and their political leaders have recently moved to resolve their conflicts 'without arms and harm' through the process of reconciliation between factions, their leadership renouncing titles and positions, so that a unity government can be formed abolishing the divisive factional politics operating since 2007.

"This reconciliation, although accepted by many in the international community, was rejected by Israel. The present Israeli attacks stop this chance of political unity between Gaza and the West Bank and single out a part of the Palestinian society by destroying the lives of people of Gaza. Under the pretext of eliminating terrorism, Israel is trying to destroy the growing Palestinian unity. Among other lies, it is stated that civilians in Gaza are hostages of Hamas whereas the truth is that the Gaza Strip is sealed by the Israelis and Egyptians."

The doctors conclude the letter by claiming that "Israel's behavior has insulted our humanity, intelligence, and dignity as well as our professional ethics and efforts. Even those of us who want to go and help are unable to reach Gaza due to the blockade.

"This 'defensive aggression' of unlimited duration, extent, and intensity must be stopped.

"Additionally, should the use of gas be further confirmed, this is unequivocally a war crime for which, before anything else, high sanctions will have to be taken immediately on Israel with cessation of any trade and collaborative agreements with Europe.

"We as scientists and doctors cannot keep silent while this crime against humanity continues. We urge readers not to be silent too. Gaza trapped under siege, is being killed by one of the world's largest and most sophisticated modern military machines.

The land is poisoned by weapon debris, with consequences for future generations. If those of us capable of speaking up fail to do so and take a stand against this war crime, we are also complicit in the destruction of the lives and homes of 1•8 million people in Gaza."
Health Ministry: Letter borders on blood libel
Israel's Health Ministry responded to the letter by demanding that The Lancet remove the online version of the document from its website.

"This letter is a radical, one-sided scandal, which borders on a blood libel," said Health Ministry Director-General Prof. Arnon Afek, who formerly served in the IDF's Medical Corps. "One of the world's leading scientific journals should do some fact-checking, listen to the facts and study them thoroughly and listen to all sides before issuing such a horrible publication."

Prof. Afek added that "as a doctor in the State of Israel, I am familiar with the high ethical level of both the IDF's soldiers and member so f the Medical Corps. I have seen doctors in hospitals fighting to save Palestinians diagnosed with the worst diseases, without distinguishing between one patient and another.

"We will launch a harsh protest against the journal, and I hope that every scientist and doctor in the world who reads this will immediately see just how far this shocking publication is from any scientific truth."

Health Minister Yael German said in response, "This is a terrible, one-sided and political article which fails to mention the distress of Israel and its civilians. What about our children, who have been suffering for more than 12 years from 12,000 rockets in daily attacks? What about Hamas, which has not stopped arming itself and shooting for even one second, and the cement it received and used to build death tunnels?

"Israel did not go to war to kill. Israel wants to defend its residents, and this is the elementary right of a sovereign state whose citizens are living under a constant threat of terror.

"I expect one of the leading journals in the world of science to check the facts and publish a counter-letter which will complete the right and missing facts and fix the terrible injustice created by such a one-sided, political publication."

Ynet has learned that the Israel Medical Association (IMA) is preparing a letter of response it will demand to public on The Lancet. The letter will be signed by doctors, as well as by Prof. Aaron Ciechanover, an Israeli Nobel Prize laureate in Chemistry.