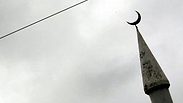 'A clearly anti-Semitic sermon'
Photo: AFP
Italy expelled a Moroccan imam accused of making violent anti-Semitic comments during a sermon at a mosque near Venice, the interior ministry said this week.

Raoudi Albdelbar, an imam from San Dona di Piave near Venice, was accused of creating a serious disturbance to public order, threatening national security and promoting religious discrimination, the ministry said in a statement Tuesday.

Under Attack

Rome's mayor denounces graffiti referring to escalating violence in Gaza with taunts such as 'Jews, the end is near.' In western German town of Wuppertal, 18-year-old arrested for allegedly throwing petrol bombs at synagogue.

"It is unacceptable for a sermon to be delivered that is clearly anti-Semitic in character, with explicit incitements to violence and religious hatred," Interior Minister Angelino Alfano said in the statement.

The ministry gave no details of the sermon and did not quote the remarks directly.

According to Italian daily Libero, the incident occurred at the end of July. It quoted a video published by MEMRI, a Washington-based media monitoring group considered close to Israel, in which Albdelbar is reported to have said:

"Oh Allah, count them one by one and kill them to the very last one."

Italy's Interior Ministry did not respond to telephone calls or an e-mailed request for comment.

The expulsion of Albdelbar comes amid a climate of increased tension over anti-Semitic attacks in Europe following Israel's conflict with Hamas and its bombardment of targets in Gaza.