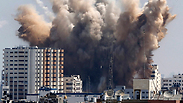 IAF attack in Gaza
Photo: AP
Hamas is in a desperate situation. After 1,800 fatalities in the Gaza Strip and unimaginable destruction which left a quarter of its population homeless, the Egyptian mediators and Israel now demand it to return to the understandings reached at the end of that last round of fighting (Operation Pillar of Defense): A state of calm and a stable ceasefire. In such a situation, Hamas has not achieved anything beyond the easing of several restrictions that Israel was willing to grant anyway, like the expansion of Gaza's fishing zone and increasing the amount of food and medical supplies permitted to enter the Strip.

Hamas did not get a thing from Egypt or Israel that would justify the 28 days of fighting that left Gaza battle-ravaged and smoldering. Twenty eight days of fighting initiated by Hamas, and five instances in which it refused humanitarian ceasefires put forward for the benefit of the people it purports to govern and fight for. Considering the fact that the root of the group's power lies in its social agenda – what will its leaders tell Gaza residents now?

Hamas is fighting for its life and will not be able to survive as a movement if it does not secure the accomplishments it promised. This is why the group and other organizations in Gaza are acting like wounded animals, gathering what's left of their rockets in hopes to better their standing at the negotiations table and extort concessions – like a wounded animal that trashes around in its final moments, using the last of its strengths. However, they are taking care not to cut loose and break all the rules.

Hamas is leaving the job to the Islamic Jihad and the Popular Resistance Committees, who have claimed responsibility for the rocket fire earlier Friday morning. The goal: Preventing Egypt and Israel from leaving the negotiating table. That may be the reason why Egypt is asking Israel not to respond forcefully – they hope to reach a new ceasefire agreement. While the Israeli delegation already returned from Cairo, a dialogue is being conducted between Hamas and Israel behind the scenes, through Egyptian mediation.

Not only are Egypt and Israel putting up an iron wall of refusal around the group's demands – Mahmoud Abbas and his men are doing the same. Azzam al-Ahmad, a member of the PA envoy to ceasefire talks in Cairo, is pressing for compromise. On the other side, there are Khaled Mashaal and Hamas' political leaders in Qatar, telling the Gazans that have been conducting the negotiations so far "we told you, you shouldn't have agreed to a ceasefire."

Haniyeh and Mohammed Deif now have no choice. Because they didn't receive the concessions they view as necessary, including the opening of the Rafah crossing, a promises of a sea and airport, and even an Israeli pledge to refrain from assassinating them – they are renewing fire.
Skating on thin ice
The current situation is reminiscent of past wars. After the War of Attrition and the Yom Kippur War, the fire was renewed after an initial ceasefire was obtained. In 1973-74, there were months of what was known as the "Small Attrition" in the Golan Heights and Sinai. The IDF suffered many casualties and there was massive shelling from both sides, until former American Secretary of State Henry Kissinger arrived and an agreement was reached. The Israeli right, by the way, then viewed Kissinger as a Jewish traitor because he brokered a ceasefire in the Golan Heights. This is the same ceasefire that gave us 40 years of calm.

It's safe to assume that a similar scenario will play out now. The terrorist organizations will continue to fire, but not intensively and not at a great distance. Both because they need to maintain the few rockets they have left, and also because they don't want to break all the rules and drag Israel into another ground operation. This is a "warning shot" and Hamas will try to skate on thin ice, hoping that that now the UN or the Americans, backed by the Qataris and Turks, will come to rescue it and help in its struggle against the iron wall in Cairo.

Hamas is also conducting a psychological war. The group is taking advantage of fears of residents of the communities surrounding Gaza regarding tunnels and is presenting what it still has left on Al Jazeera. But the photographs do not necessarily show offensive tunnels, but rather fighting tunnels used by Hamas to move inside Gaza, or tunnels that reach underground launchers and mortar attack positions. It is also safe to assume that even if Hamas has an attack tunnel left, it won't take advantage of it, knowing that such an act would immediately lead to the launching of a new Israeli ground incursion. Hamas does not want that, and neither does the Islamic Jihad. They want a ceasefire, but they also want a win. Nothing more, but also nothing less.
International game
Israel will now need to consider the nature of its response. Dealing a harsh blow on Hamas is the immediate and almost only option, but the international situation prevents Israel from using even 10 percent of its fire power that it is able to activate from the air.

The legitimacy granted by the world has almost ended and we may find ourselves in a situation in which the UN, European countries and South America will impose economic sanctions on us. Arab countries have already been working on that mission vigorously at the UN General Assembly and the Security Council.

Therefore, if the Egyptians are prepared to continue the negotiations, Israel shouldn't withdraw from them. Officials need to manage this complex situation of negotiations while under fire carefully, in a manner that will clarify to Hamas that its decision to renew fire exacts a high price – and at the same time, Israel has to make sure not to intensify the rage of the international community.
IDF in the territory
Meanwhile, Hamas' situation appears to be getting worse ever since it opened fire. Thousands of Gazans are fleeing their homes. The Israeli response did not come instantly in order to avoid harming civilians that are fleeing locations near rocket launching positions.

The IDF is preparing for another possibility as well. The reservists that have been released can be drafted again. The main maneuvering forces, the conscript divisions, are staying in assembly areas close to the Strip. Their role is double – protecting communities against possible attacks via tunnels and launching a ground offensive into the Gaza Strip if Hamas goes too far and causes Israeli deaths, for example.

That is how the IDF has acted after past wars and that is how it is currently acting. Ceasefires are an extension of war by political means for both sides, and sometimes, the negotiations and the state of fire are interwoven. Hamas is battered, Israel has international constraints imposed on it, and that is what will finally lead the two sides to reach a compromise. But Jerusalem and Cairo are now on trial again, and it is crucial that Hamas will not emerge from the current round that it initiated holding an achievement in its hands.