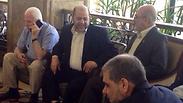 Palestinian delegation in Cairo
The Israeli delegation returned to Cairo on Monday morning after the 72-hour ceasefire agreed on by both sides has been maintained since midnight.

While the fire may have been halted, Hamas has already threatened, even before the ceasefire began, that they would resume rocket fire if talks in Egypt don't reach a breakthrough by the end of the ceasefire's 72-hour period.

Hamas official Izzat al-Rishq, a member of the Palestinian delegation, stressed that "if we don't reach an agreement within 72 hours, it is likely we'll quit the negotiations and there won't be another ceasefire."

Related stories:

The head of Hamas' political bureau, Khaled Mashal, explained in an interview with AFP that the ceasefire was in fact advancing Palestinian interests. The ceasefire, he said "is one of the ways or tactics to ensure successful negotiations or to facilitate the delivery of humanitarian aid to Gaza."

"Any long-term ceasefire would be conditioned on the lifting of the siege on the Gaza Strip," he added.

"One of the most important results of this war on Gaza, even before its end, is that lifting the blockade has been placed on the regional and international agenda. These demands are not unnatural. These are rights of the Palestinian people who want to live without blockade, starving, and a travel ban," he said.

While Israel completely opposes a seaport or an airport in Gaza, it does support the opening of the Rafah border crossing, an issue the Palestinians need to negotiate with Egypt. Israel will also agree to expand Gaza's fishing area, and demands that the funds pledged by different nations for Gaza's restoration would not fall into Hamas' hands, but rather go directly to the contractors and to different bodies handling the Strip's recovery.

Pan-Arab newspaper Al-Hayat reported on Monday that the Palestinian delegation was expected to submit a work plan for the Rafah border crossing to the Egyptians.

One of the Palestinian delegation members told the paper that Egypt's proposal for a ceasefire works on the idea neither side loses and neither side wins.

The Palestinians, the source said, are interested in an agreement that reaches three goals: putting an end to the bloodshed, rehabilitating the Strip, and opening the border crossings.

Members of the Palestinian delegation said Egypt has recently eased the movement of Gazans through the Rafah crossing and that they are receiving positive indications from Cairo that it was willing to open the crossing under PA control.

The paper even reported a breakthrough in indirect negotiations in Cairo on Sunday night, which has reportedly increased the chances of reaching a long-term ceasefire agreement.