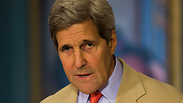 'Kerry put his personal prestige on the line, and gave up'
Photo: EPA
US Secretary of State John Kerry is unpopular among the Israelis. If we were to hold a public opinion poll in Israel right now, Kerry would be ranked in one of the highest places on the loathing scale.

But maybe we should stop for a minute and ask the denial question: Is it possible that Kerry was right after all?

About a month ago, when Kerry began formulating the outline for a ceasefire, he saw several assumptions in front of him: First, the countries capable of influencing and restraining Hamas are Qatar and Turkey. Villains, but that's the way it is; second, the Egyptian-Israeli demand that negotiations will not be held under is right and fine, but there is no chance that Hamas will accept it;

Under Fire

Op-ed: US secretary of state could have avoided unnecessary insults had he been as sharp and eloquent as President Obama.

third, the Israeli government is not prepared to bring down the Hamas rule in Gaza, it just wants a "weakened Hamas," which it believes will serve it through its ongoing rule; fourth, the Palestinian Authority is too weak to become the landlord in Gaza without an international umbrella and without Israel's backing. As US President Barack Obama said in his recent interview to the New York Times, "(Palestinian President Mahmoud) Abbas is too weak."

Based on these assumptions, Kerry reached a logical conclusion that an accepted, durable and long-term ceasefire would only be reached by coming to terms with Hamas' presence with Gaza, for the lack of any other choice, involving Turkey and Qatar in the negotiations and accepting guarantees for a state of calm from these two countries, receiving Israeli concessions on issues we were anyway willing to compromise on – like opening the crossings and an agreement in principle, rather than a practical agreement, for a seaport in Gaza.

It's not hostility towards Israel that drove Kerry to formulate his ceasefire outline in early July, but rather concern for Israel. He looked at our region with his eyes open wide.

Israel, Kerry realized, is controlled by a government which is unwilling to initiate a courageous diplomatic and military plan. A status-quo government, a standstill government. Hamas, on the other hand, is active, hysterical and wants to – and will – drag Israel into an entanglement in Gaza with unimaginable results.

Kerry also believes, like the majority of the American intelligence community, that the rising power in the Middle East is the Muslim Brotherhood and that Israel should engage in a dialogue with their moderate wing.

Kerry wanted to prevent the entanglement and its price. He put his personal prestige on the line, but nothing happened – and he gave up.

And what if the experts were wrong? The astrologists failed to predict Operation Protective Edge, or even a small part of it. A review of the weekly horoscopes in the past few weeks pointed to a complete detachment from reality.

It's not surprising: According to astrology, the stars determine our fate and they don't deviate from their path because of rockets and interceptions. They just have to know how to predict the path.

But why are we complaining about the fortune tellers, communicators and astrologist who failed in their predictions? How many national security experts warned of the possibility of a warlike eruption in the south? And since it began, how many of them predicted the way it would develop? How many of them managed to successfully foretell what was about to happen in several hours? They were surprised time and again.

Operation Protective Edge helped light up the economic forecasters' scowling faces after the financial crisis; why there are those who did an even worse job in forecasting.

But there is a difference. While the financial community emerged from the deep crisis with great losses and was united in beating its breast over its blindness and arrogance, I have yet to see a similar response from the security and diplomacy experts. Their self-confidence has not suffered.

In order to justify their forecast errors, they explain that Hamas was the one which made mistakes. "At the end of the day," an accountant serving as a senior reserve officer told me, "it's like a company's profit and loss statement. There are either gains or explanations."