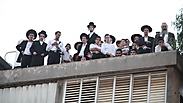 Bnei Brak residents watch ceremony from rooftops
Photo: Yaakov Cohen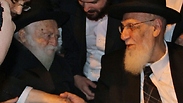 Rabbi Chaim Kanievsky and Rabbi Shalom Cohen
Photo: Yaakov Cohen
A rare ceremony marking the redemption of a firstborn donkey was held Sunday in the ultra-Orthodox city of Bnei Brak in central Israel in the presence of thousands of people, including Rabbi Chaim Kanievsky, one of the leaders of the haredi Lithuanian sector, and the Shas movement's new spiritual leader, Rabbi Shalom Cohen.

Due to the mass ceremony and "summit meeting" between the two prominent rabbis,

Jewish Custom

Following appeal from Let Animals Live association against use of live chickens in traditional Kapparot ritual, chief rabbi urges public to beware of 'mitzvah that entails an offense.'

some of the city's main streets were blocked to traffic from the early evening hours.

The birth of a firstborn donkey foal is considered a rare occasion, and the unusual ceremony attracted many of Bnei Brak's residents. While the event itself was held outside the Lederman Synagogue in the city, thousands of people filled the nearby streets.

The "petter chamor" ceremony is a halachic procedure aimed at allowing the owner of a firstborn donkey to use it for his own needs.

According to Jewish Law, firstborns – including those of animals like sheep and donkeys – are considered sacred for religious use. If their owners wish to use them for any purpose, they must "redeem" them according to the Halacha through a symbolic sum of money or any other animal that can be slaughtered.

The rare ceremony served as the background for a rare meeting between the two senior leaders of the haredi world, who sat on the same stage. Rabbi Kanievsky and Rabbi Cohen were greeted by a singing audience, which the organizers say totaled more than 10,000 people, including Bnei Brak Mayor Hanoch Zeibert and many rabbis and public figures.
Donkey foal adorned with flowers
The ceremony's organizers told Ynet that special virtues are attributed to the firstborn donkey redemption mitzvah, and that the state of war in Israel served as a catalyst for the rare ceremony.
Rabbi Shalom Cohen, who was recently crowned the new spiritual leader of the Sephardic Shas movement, praised the mitzvah and blessed the audience attending the event.
The donkey foul was adorned with flowers and a festive harness, according to tradition, and was then "redeemed" by its owner in exchange for a lamb, which was prepared in advance and handed over to Rabbi Cohen as redemption.
According to Rabbi Cohen's associates, at the end of the ceremony the two rabbis engaged in a short conversation on halachic issues.
Rabbi Cohen asked Rabbi Kanievsky what would happen if the "exchanged" lamb would turn out to the ritually unfit for slaughter, and Rabbi Kanievsky replied that "if the rabbi blessed it, it will definitely not turn out to be non-kosher."