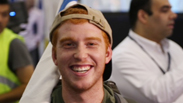 One of the immigrants
Photo: Motti Kimchi
Operation Protective Edge has had little effect on the amount of immigration to Israel, shown by the Tuesday arrival of 338 newcomers from North America, 108 of which plan to join the IDF in the coming months.

"We are very excited. We came to help the country," said 18-year-old Ran Shitrit. "This is an excellent feeling, I want to join Golani."

New immigrants from North America celebrate their arrival with a verse of Israel's National Anthem 'HaTikvah'. (צילום: מוטי קמחי)

The special flight organized by Nefesh B'Nefesh included 37 families and immigrants from the ages of one-and-a-half-months to 93. The new arrivals are mostly expected to take up residency in the southern and northern parts of the country.

Related stories:

"I did a pre-Army service year and I felt that this is my place," said 19-year-old Jared from Philidephia. "I feel excellent here and my parents are proud and support me."

Daniel, a 22-year-old due to join the army at the next draft date, added that, "The war here doesn't change a thing. There's no more important time to be here."

Besides the young immigrants, older couples also arrived on the flight and said, "It's never too late to make Aliyah. Steven, a 72-year-old who arrived with his wife said, "We need to stand with the Jews here. I have a daughter in Jerusalem but I also have 2 girls in Sacramento who stayed."

"We are going to live in Nahariya," Steven added. "We decided to make Aliyah a long time ago, but we didn't feel like it was the right time until now."

Brian and Zisi came with their two daughters and said upon arrival that, "This is the best time to come because we are needed here more than ever. We've wanted to make Aliyah out whole lives."

Lia and Nicole, both 22-years-old, said that making Aliyah was realizing a dream. "We decided to make Aliyah together. Israel needs us and we'd prefer to be here despite the rockets, because that's Zionism."

President Reuven Rivlin welcomed the immigrants at the airport and said that, "The people in Israel appreciate your dedication, courage, and Zionism. Your presence here strengthens us."

Erez Halfon, Vice Chairman of Nefesh B'Nefesh, gave appreciation to the immigrants and said that, "They left their families behind them and the comfort of the United States in order to realize the Zionist ideal."

Minister of the Interior Gideon Sa'ar was also present and said that, "We can see the Zionism is alive. There are those who say that the US is the land of unlimited opportunity, but I say that about Israel."