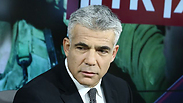 Yair Lapid in Ynet sudios.
Photo: Ofer Amram
Minister in Israel's Security-Cabinet say that Prime Minister Benjamin Netanyahu has yet to update them regarding the developments in Gaza ceasefire talks, despite the fact that a five day extention has been reached.
Cabinet ministers told Ynet late Wednesday night that Prime Minister Netanyahu had "disappeared" and hadn't updated any of them on the current situation.
"We are being updated from Hamas," a source from the Cabinet told Ynet, "its embarrassing," added a senior intelligence official.
In addition to failing to update his ministers, Netanyahu also failed to update the Israeli public, and despite attempt by Ynet to get a response to news of the extended ceasefire, neither the Prime Minister's Office or the Defense Ministry were willing to confirm, saying "they were examining the issue."
According to both political and military sources, the prime and defense ministers have instructed the IDF to respond to any additional breach of the ceasefire by Hamas or Gaza militants.
Netanyahu did find time to speak with US President Obama, whose foreign policy aide Ben Rhodes said talked to Netanyahu Wednesday from his vacation home on Martha's Vineyard, Massachusetts.
The White House said in a written statement that Obama had reaffirmed the US support for Egypt's effort to mediate a lasting truce that satisfies both parties.
Minister's dissent
In response to renewed rocket fire at Israel two hours before the ceasefire expired, a senior cabinet minister said Wednesday night that Israel would return heavy fire in response.

The ceasefire is set to expire at midnight Wednesday, and the possibility of a long term deal being reached seem slim. However, the possibility the sides will agree to three day extension to the current lull was also likely. Nonetheless, a number of top ministers have expressed their reservations about agreeing to a deal with Hamas.

Economy Minister Naftali Bennett has announced four criteria needed for him to support a ceasefire deal with Hamas in Gaza.

Bennett's conditions are: Any funds transfer to Gaza must be under civilian oversight; the return of the bodies of Staff Sgt. Oron Shaul and Sec.-Lt. Hadar Goldin killed during Gaza fighting; assurances allowing Israel to return to Gaza in the future; and immediate end to Palestinian legal claims against Israel at an international level.

Finance Minister Yair Lapid joined other Cabinet members Wednesday afternoon in threatening to vote against an agreement with Hamas that may come out of negotiations in Cairo before midnight when the latest 72-hour ceasefire in Gaza is due to expire.

"I'm not automatically going to support an agreement," Lapid told Ynet. "Don't count me as a sure vote in favor of an agreement formed in Cairo," said Lapid, hinting that he and other ministers won't be supportive of any accord for the sake of temporarily ending the fighting.

"I'll only vote in favor of an agreement that delivers a real solution to the residents of the south," said Lapid. "I fear that without including the international community, which we've already suggested, this is a process that will only lead to another round of fighting in another six months or a year."

Related stories:

Lapid's comments to Ynet come after he met privately with Prime Minister Benjamin Netanyahu on Tuesday and insisted that Israeli negotiators should push for an international conference to draft a proposal for the demilitarization and rehabilitation of Gaza.

Netanyahu didn't reject the idea completely, but within Lapid's Yesh Atid party, MKs seem concerned that the prime minister would be prepared to promise almost anything to win a majority in the Cabinet.

Foreign Minister Avigdor Lieberman also expressed his concerns of an agreement from Cairo Wednesday, calling for a decisive victory, even at the cost of re-escalation in the Gaza Strip.

"The State of Israel cannot afford a war of attrition, just like any other modern country can't. That's why we have to reach a decisive victory, even at the cost of escalation," he told mayors in southern Israel. "We don't need to make any more threats, just deliver a hard blow."

"If we don't get rid of Hamas, we wouldn't be able to make progress on any reasonable agreement - not security-wise, nor diplomacy-wise," the foreign minister went on to say.

In addition, ministers who spoke with Netanyahu on Tuesday told Ynet that, "Netanyahu is scared of the Cabinet vote. At the moment he has a serious problem. It's not at all a sure thing that he has a majority and he's trying to soften (the ministers) leading up to the possible agreement."

The current deal on the table in Cairo, according to Palestinian officials, calls for easing parts of the Israeli blockade of Gaza in order to bring some relief to the territory. But it leaves the key areas of disagreement, including the Islamic militant group Hamas' demand for a full lifting of the blockade and Israeli calls for Hamas to disarm, to later negotiations.

The Associated Press Contributed to this report.